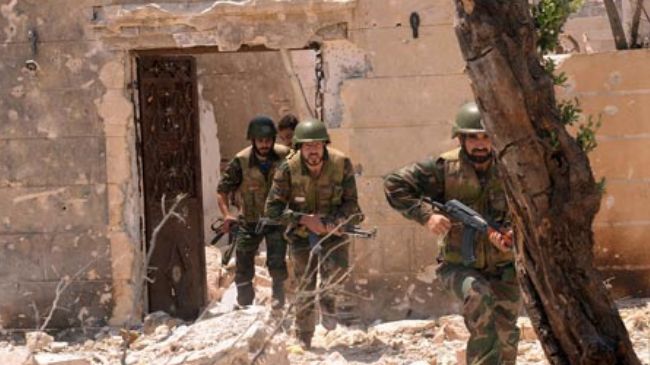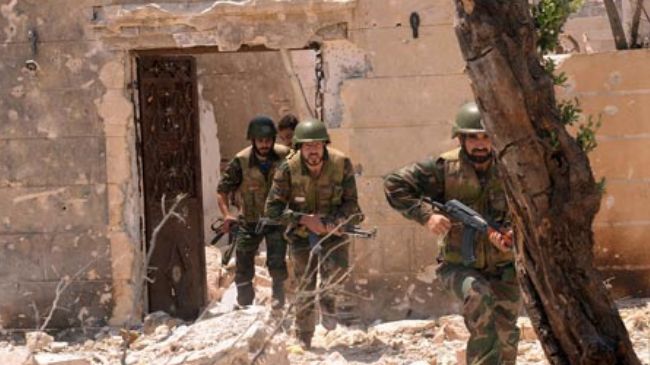 Syrian forces have killed over a hundred foreign-backed militants fighting against the government of President Bashar al-Assad in Homs countryside.
The army said the militants died after attempting to attack security checkpoints in the area, adding, most of them were non-Syrians.
The army units also destroyed several hideouts of the foreign-sponsored militants in the neighborhoods of al-Warsha and al-Hamidieh in the strategic city of Homs.
The government troops have recently conducted successful clean-up operations across the country, inflicting heavy losses on the militants.
Last week, Syrian forces took control of the key town of al-Bweida, south of the capital Damascus, after pushing out foreign-sponsored militants and destroying their equipment.
Syria has been gripped by deadly unrest since 2011. According to reports, the Western powers and their regional allies — especially Qatar, Saudi Arabia, and Turkey — are supporting the militants operating inside Syria.
According to the United Nations, more than 100,000 people have been killed and millions displaced due to the violence.
On October 7, the UN said over four million other Syrians will be forced out of their homes in 2014 by the escalating conflict in the country.
Two million Syrians are expected to take refuge outside the country while another 2.25 million are predicted to be internally displaced next year.