Syria
Syrian Army Kills over 130 Terrorists in Southern Parts of Aleppo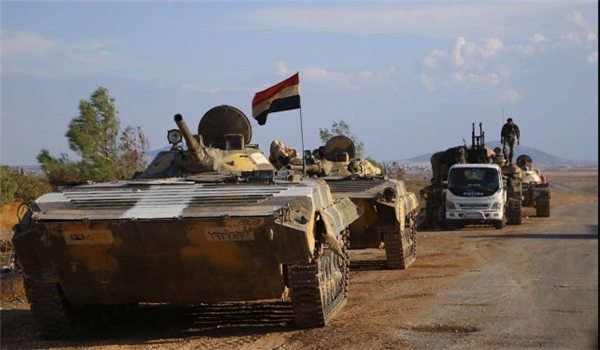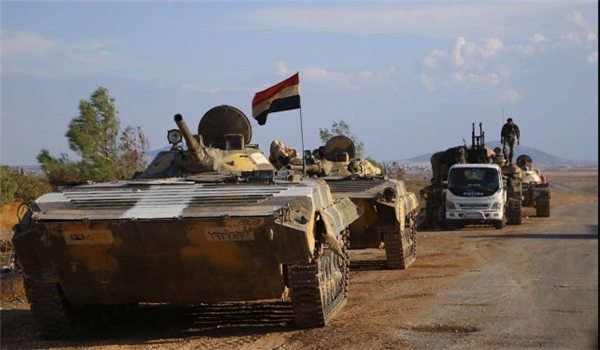 The Syrian Army announced on Sunday that its forces have killed over 130 militants alongside Khanasser- Ithriyah road in the Southern parts of the Northern city of Aleppo in the last 24 hours.
The sources said that the terrorists were killed in the Army's cleansing operation of the Khanasser-Ithriyah road.
The Army has promised to restore security to the above-mentioned road today or finally on Monday.
A field source said that most of the casualties of the ISIL were in Ithriyah area and over 40 killed bodies of the ISIL were seen in Aqrabiyat East of Hama.
The source further added that over 30 members of al-Nusra Front were killed in clashes with the Syrian army in Ithriyah.
The Syrian army has thus far has gained full control over 22 kilometers of this road.
On Sunday, informed sources said that the joint massive operation of the Syrian Armed Forces and the Lebanese Hezbollah has resulted in the recapture of over 45 square kilometers of territories in the Southern parts of the Northern city of Aleppo.
The sources said that the Syrian Army's 4th Mechanized Division, in coordination with Hezbollah, Harakat Al-Nujaba from Iraq, the National Defense Forces (NDF) of Aleppo city, and Kataebat Al-Ba'ath (Al-Ba'ath Battalions), have advanced deep into the heart of the Aleppo Southern countryside after spending 10 days combatting the militants from the Free Syrian Army, Harakat Nour Al-Deen Al-Zinki, Harakat Ahrar Al-Sham, and Liwaa Suqour Al-Sham.
The success at Al-Amariyah battlefront has allowed the Syrian Armed Forces and Lebanese Resistance increase their territorial gains in Southern Aleppo to over 45 square kilometers in just 10 days; the victories mark the largest series of gains for the Syrian Armed Forces and Hezbollah since their 60 day long Zabadani offensive.