Middle East
Syria
Syrian Army Lays Full Siege on Tahrir Al-Sham in Northern Hama
The Syrian army continued to advance in Khan Sheikhoun in Southern Idlib, imposing control over more regions and areas occupied by terrorist groups and Ankara in Northern Hama.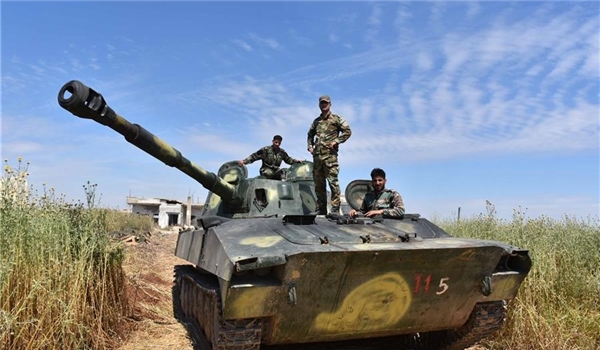 The Syrian army troops kept up clashes with Tahrir al-Sham al-Hay'at (the Levant Liberation Board or the Al-Nusra Front) terrorists in Tal Tara'a in Eastern Khan Sheikhoun, recapturing a sugar plant, al-Souseh region, farms near the town of Murak and Khazanat post office in Southern Khan Sheikhoun.
Meantime, a field source reported that the Syrian army soldiers encountered their comrades stationed in Khan Sheikhoun, surrounding from all sides all towns and villages occupied by the terrorists in Northern Hama, including al-Latamineh, Kafar Zita, Murak and al-Sayad as well as a region occupied by Ankara.
He added that several terrorists were killed in the Syrian army operations, noting that the army forces also destroyed a number military equipment and vehicles used by the terrorists to flee towards the occupied regions in Murak.
The Syrian army troops started cleansing the districts and streets of the strategic town of Khan Sheikhoun which is considered as a gate for the army to purge the terrorists from other occupied areas in Hama and Idlib too.
On Monday, the Syrian Army managed to enter Khan Sheikhoun after five years.
The Damascus Army troops kept on their clashes with the terrorists in Northwestern Khan Sheikhoun in Southern Idlib, and took control of al-Faqir military post and deployed only 900 meters from Aleppo-Damascus Highway around Khan Sheikhoun.
The Arabic-language al-Watan newspaper quoted battlefield sources as saying that the Syrian Army troops entered Khan Sheikhoun from the North-West after making further advances.
It pointed to the destruction of several bomb-laden vehicles in the region, and said that tens of terrorists started fleeing the scene of the battle as the Syrian Army made its advances.
Meantime, the Syrian Observatory for Human Rights (SOHR) pointed to the arrival of the Syrian Army in Khan Sheikhoun city after five years since the occupation of the city by terrorists, and said that at least 45 terrorists were killed in the Syrian Army's military operation in Khan Sheikhoun.