Syria
Syrian Army Opens New Operational Fronts against ISIL in Southern Damascus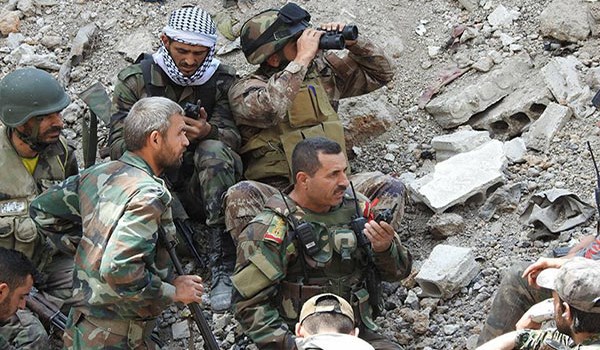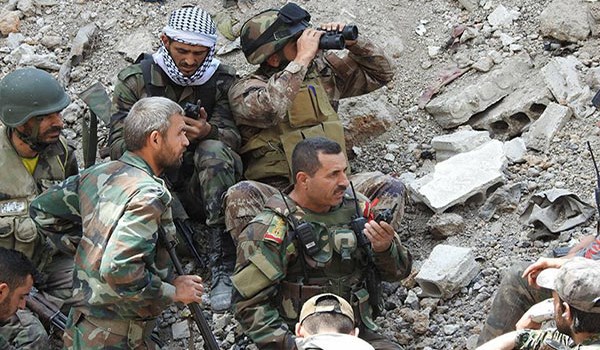 The Syrian army troops tightened noose on the ISIL terrorists by advancing in Southern Damascus, opening new operational fronts and dispatching reinforcements and military equipment to the region.
The army has now deployed forces in al-Raijeh square (North) to Abu Foad neighborhood (South) in Northwestern Yarmouk refugee camp which was earlier one of the al-Nusra Front (also known as Fatah al-Sham Front or the Levant Liberation Board) strongholds and has sent fresh units and equipment to the region with the aim of opening new operational fronts.
Reports also said that the army has engaged in fierce clashes with the terrorists after attacking the militants' positions in Loubiyeh street, regaining control of several points.
Meantime, a field commander confirmed clashes in Loubiyeh street, stressing that the army wants to isolate the terrorists in al-Shohada street, extending from Loubiyeh street to the town of Yarmouk in the North.
Also, field sources reported that the army has dispatched fresh forces and new military equipment to Da'aboul street East of al-Tazamon neighborhood as clashes are underway in the South of al-Tazamon.
They added that the clashes have inflicted heavy casualties on the terrorists.
Meantime, other army units continued clashes with the ISIL militants in A'alaf region, advancing in several points.
In a relevant development on Wednesday, the Syrian army troops won back control of several regions near Hajar al-Aswad during anti-ISIL military operations in Southern Damascus.
The army forces engaged in fierce clashes with the ISIL terrorists in North of Hajar al-Aswad, retaking control of al-A'alaf and al-Basel garden.
They could also liberate several farms in Southern and Southeastern Hajar al-Aswad after pounding them with heavy artillery and missile fire.
Meantime, the Syrian air force launched airstrikes against the ISIL moves and positions in Hajar al-Aswad and regions near al-Tazamon district in Southern Damascus, killing a number of terrorists and destroying their military equipment.