Syria
Syrian Army Pounds Daesh, Nusra Terrorists in Aleppo and Damascus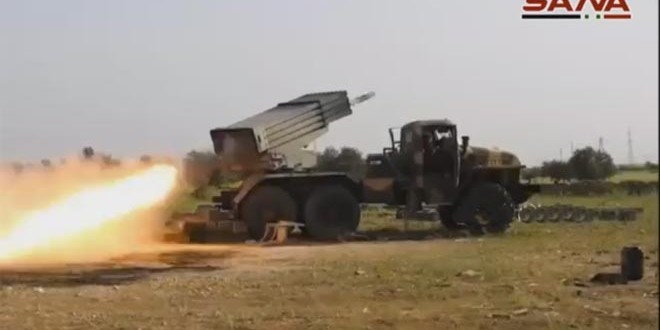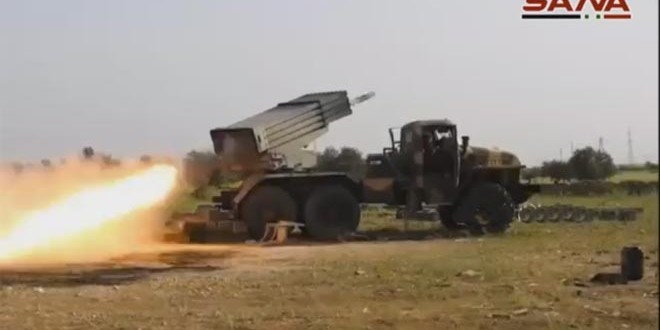 Units of the Syrian Arab army intensified their military operations against positions of the ISIS and Jabhat al-Nusra terrorists in the countryside of Aleppo province and Damascus countryside.
A military source told SANA reporter that the army targeted Jabhat al-Nusra (Nusra Front) terrorists' fortified positions in Sawran and al-'Aweijeh villages and al-Shaqeif and Dahret Abd Rabbo areas in the northern countryside of Aleppo.
The strikes inflicted heavy losses upon terrorist groups in personnel and equipment, destroying a bulldozer which the terrorists used in making barriers to protect their fortified post in Dahret Abd Rabbo area.
Large numbers of foreign mercenaries continue to infiltrate from Turkey to the northern countryside of Aleppo to join Jabhat al-Nusra terrorist organization, in addition to smuggling advanced weapons backed by Erdogan and Al Saud funds.
In the southern countryside, the army destroyed ISIS (so -called Islamic State , ISIL , IS , Daesh) terrorists' positions and supply routes south to Khanaser town and in the villages of Atshaneh and Jeb al-Ali.
Yesterday, the Syrian army units destroyed several vehicles carrying ISIS terrorists and others equipped with machineguns in the villages of Hamima al-Kabira, Rasm al-Kama, Serbes, Shweilekh in the eastern countryside.
Damascus Countryside
The army continued hunting down ISIS terrorists in the farthest northeast of Damascus countryside.
A source on the ground told SANA that an army unit, in cooperation with the popular defense groups, eliminated during the last 24 hours terrorist groups that were positioned in al-Safa Rest place north of Abu al-Shamat area.
The source added that another army unit and popular defense groups carried out intensive operations against gatherings of ISIS terrorists at the intersections leading to Jordan and Iraq in the direction of the Syrian Badyia (desert), leaving a number of the terrorists dead and destroying their vehicles that are equipped with heavy machine guns.