Syria
Syrian Army Pounds Tahrir Al-Sham Positions in Hama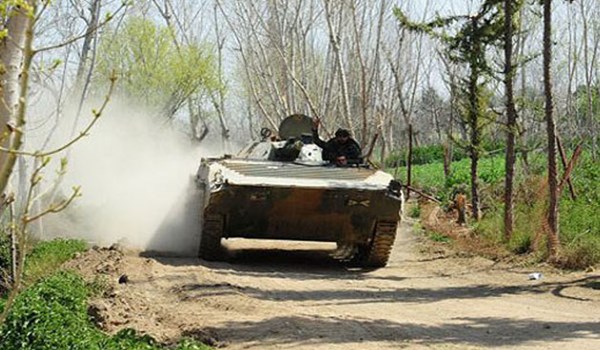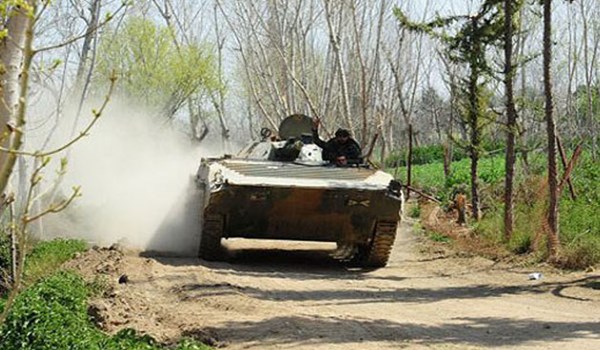 The Syrian army launched heavy attacks against the positions and moves of Tahrir al-Sham Hay'at (the Levant Liberation Board or the Al-Nusra Front) in Hama in line with preparations to launch massive military operations in Idlib.
The army forces on Thursday pounded the terrorists' positions with heavy artillery and missile attacks in the towns of al-Janabareh and al-Latamineh in Northern Hama as well as the town of Kharbat al-Naqous and the adjacent areas, al-Zayarah, Beit al-Ra'as, the road linking al-Huwaijah to al-Hawash and the areas near the village of al-Tuwaineh in Western Sahl al-Qab in Northwestern Hama.
Meantime, a field source reported that during the Syrian army attacks against the terrorists' positions in Northern and Northwestern Hama a large number of terrorists were killed and wounded and their military equipment and positions were destroyed.
He added that the Syrian army's artillery attacks against the terrorists' positions in Hama and Idlib have intensified, and said that the offensives are in line with preparations to launch military operations codenamed "Fajr (Dawn) of Idlib" in Idlib province.
In a relevant development on Tuesday, the Russian and Syrian fighter jets carried out massive bombing raids on terrorists' positions in Northwestern Hama and Western Idlib, inflicting major losses on the terrorists.
The Arabic-language Moraseloun news website reported that the fighter jets conducted a heavy bombing on terrorists' positions in a large region stretching from Southern Idlib to the al-Ghaab Plain in an introduction to the upcoming ground assault.
In the meantime, the warplanes stuck terrorists' strongholds in Jisr al-Shughour, Jabal al-Zawiyeh, Marowaj, al-Shaqar, Harash Basnaqoul, Anab, al-Janoudiyeh, Qani, al-Sarmaniyeh and Zeizoun, inflicting major casualties on the terrorists.