Middle East
Syria
Syrian Army Preparing for Major Battle in Idlib
The Syrian army sent new military convoys to Northern Hama to further reinvigorate its forces for massive operations against the terrorists in Idlib province amid the militants' continued attacks from the demilitarized zone in Northern Syria.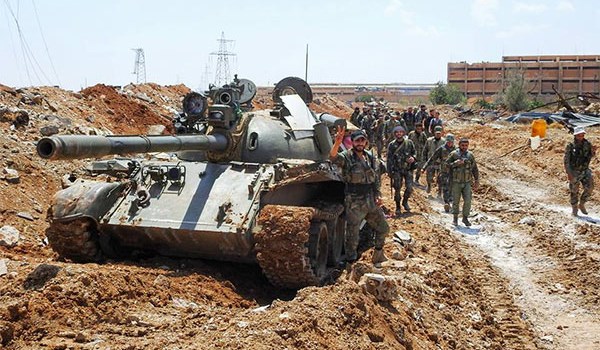 The Arabic-language website of Sputnik reported on Wednesday that the Syrian army has dispatched fresh convoys to Southern Idlib and Northern Hama to be prepared for imminent military operations in Northern Syria.
It added that extensive military equipment has been sent to the Northern fronts of Hama to Sahl al-Qab region in Northwestern Hama.
Meantime, a military source said that the terrorists launch repeated attacks from the demilitarized zone on safe zones and military positions, adding that cleansing operations in the region should be prioritized.
Tahrir al-Sham al-Hay'at (the Levant Liberation Board or the Al-Nusra Front) terrorists targeted the town of Salhab and Mahradeh in Northern Hama by heavy rocket attacks which were responded by the artillery and airstrikes of the Syrian army against their positions and movements in the towns of al-Latamineh, Kafr Zita, Kafr Naboudeh, Rasm al-Ahmar, al-Hawijeh, Qalat al-Maziq, al-Sakhar and al-Sahriyeh in Northern and Northwestern Hama.
The attacks destroyed several hideouts, vehicles and military equipment of the terrorists and killed and wounded a large number of them.
In a relevant development on Tuesday, the Syrian army dispatched a large military convoy to deploy troops and equipment in different parts of Northern Hama as the terrorists intensified their attacks from the demilitarized zone and Ankara defies its terms under the Sochi Agreement.
The Arabic-language version of Russian Sputnik news agency quoted a Syrian military source as saying that the Syrian Army had sent massive military equipment to different regions in Northern Hama along the borders with the demilitarized zone.
It noted that the dispatch of military hardware and equipment had taken place in line with the Syrian Army's preparations for cleansing the region and restoring security to the towns of al-Saqilbieh, Mahradeh, al-Azizieh, al-Rasif and several towns bordering contact lines in Northern and Northwestern Hama.
The Sputnik noted that the terrorists' attacks on the Syrian Army's military points and safe zones in Northern Syria had continued in recent weeks.
The Arabic-language Al-Watan newspaper quoted Ankara-backed terrorists as saying that Turkey had completely abandoned the Sochi agreement by refraining from implementing it.
It pointed to Ankara's attempts to persuade Tahrir al-Sham terrorists to reinforce its military positions in the demilitarized zone and lack of commitment to the Sochi agreement, and said that Ankara had been involved in a recent move by the militants who blocked patrols by Russian and Turkish troops in Hama.