Syria
Syrian army raids Daesh sites in Yarmouk Basin, Daraa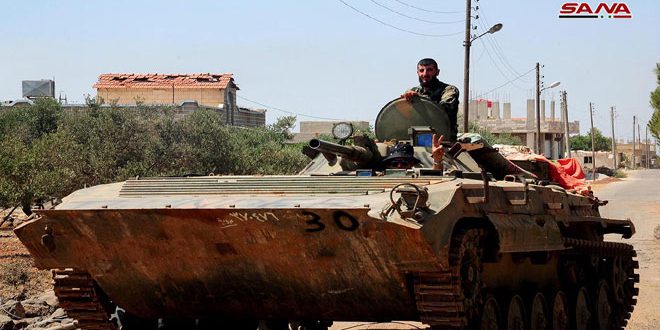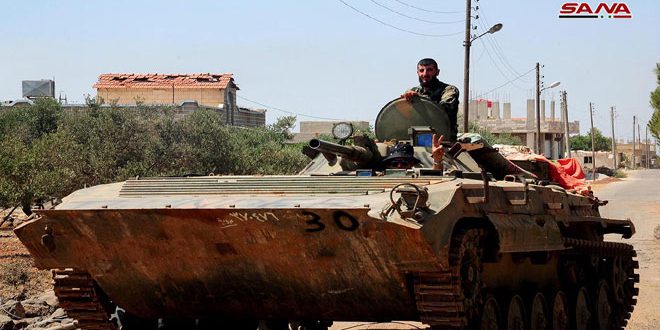 The Syrian Arab Army continued its operations against Daesh (ISIS) terrorists in the area of Yarmouk Basin to the southwest of Daraa, SANA reported.
Army units launched artillery strikes on Daesh fortified points and infiltration axes in the area surrounding Tsil village and Tal al-Joma'a in the area of Yarmouk Basin to break their frontlines in preparation for the advance of the storming units to clear the area of terrorists and retake control over the strategic area of Tal al-Joma'a, SANA's reporter said.
A number of terrorists' points and dens were destroyed by the army's raids and their arms were destroyed.
The army units continued their combat operations in the southern region and liberated 21 villages and towns in the countryside of Daraa and Quneitra.
A military source said that the army units liberated the villages and towns of al-Mheir, al-Rafid, Rasm al-Hassan, al-Hiran al-Shamali, al-Hiran al-Janobi, Rasm Azrael, Rasm al-Bunyan, Rasm Za'roura, Ghadir al-Bustan, Abu Qulai'a, Abu Tina, al-Ma'laka, al-Jbeila, al-Mdowra, Abo al-Khashan, Um Alloqus, al-Mahiouba, al-Mshaida, al-Bassa, al-Bakar and al-Bakar al-Sharqi in the countryside of Daraa and Quneitra.
The source pointed out that the army operations destroyed terrorist's fortified positions and hideouts in addition to eradicating their hotbeds in the liberated area.