Middle East
Syria
Turkey
Syrian Army Recaptures 1,000 sq/km After Deal with Kurds, Withdrawal of US Troops
Damascus government forces established full control over a vast region in a sign of victory after eight-years of bloody battle with terror groups and Western-backed militants and following a deal with the Kurds facing a Turkish-led incursion and pulling out of American servicemen from Northern Syria.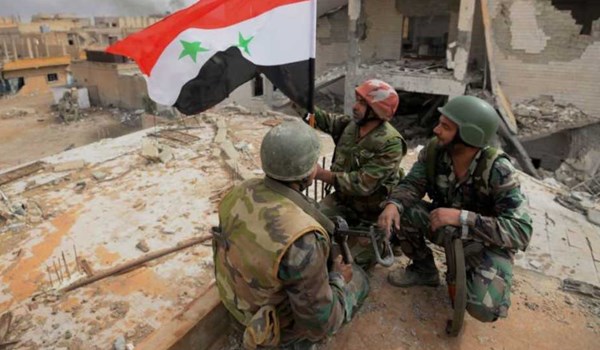 Syrian government forces took control of an area of more than 1,000 square kilometres around the Northeastern Syrian city of Manbij, the Russian Defense Ministry announced.
The Syrian Army also gained control of the Tabqa military airfield, two hydroelectric power plants and several bridges across the Euphrates river, Moscow informed.
The Russian centre for Syrian reconciliation reported Tuesday the Russian military and the Syrian authorities have taken the necessary measures to ensure the safe withdrawal of foreign troops from Northeastern Syria as the evacuation of US servicemen continues.
The center's chief Alexey Bakin stated that the Syrian authorities and officers of the Russian Center for reconciliation of the conflicting sides in Syria are trying to prevent armed conflicts in the country's regions going under the Syrian government's control.
He noted that the evacuation of US troops from Northeastern Syria continues, adding, "American servicemen left their bases in the settlement of Dadat and Umm Mial near Manbij in the Aleppo province and headed towards the Syrian-Iraqi border."
The US-led coalition in Syria confirmed on Tuesday that it had pulled all of its troops out of the city of Manbij, which is now controlled by government troops.
According to Bakin, rallies of protest against foreign occupation and in support of reunification with official Damascus were held in the city of Raqqa and in a number of other settlements on the Euphrates East bank in the Deir Ezzur province.
On Wednesday, Military Police Officer of the Russian Armed Forces Safar Safarov told reporters that Russian military police's armored vehicles has for the first time organized a patrol in the Syrian city of Mabij in Eastern Aleppo.
Syrian government forces have taken control over Manbij, al-Tabqa in the Raqqa province, Ain Issa, Qamishli, Hasaka and several towns and villages in Northern part of the country, after the Kurds reached an agreement with Damascus for Syrian government troops to be deployed along the border with Turkey.
The flashpoint area housed US outposts from which they patrolled the region since 2017 to deter a confrontation between Turkey and Kurdish militias.
Last Wednesday, Turkey launched a new military campaign in Northern Syria dubbed 'Operation Peace Spring' that has triggered widespread condemnation.