Syria
Syrian Army Reinforces Positions Near Borders with Iraq after ISIL Attack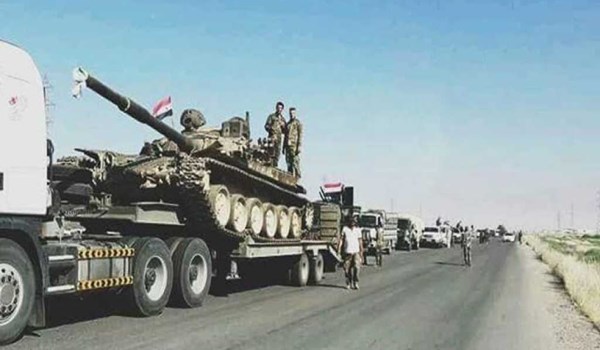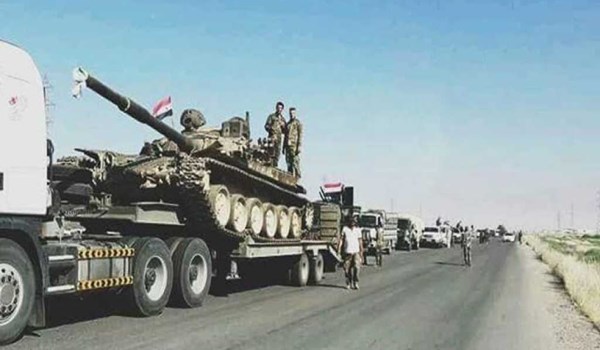 The Syrian army sent a new convoy to Southeastern Deir Ezzur, near the border with Iraq, after the US airstrikes and ISIL offensives against their military points.
Field sources in Eastern Deir Ezzur reported on Monday that the convoy which consisted of a large number of forces and military equipment was dispatched from Hama to Deir Ezzur.
They added that the Syrian army has reinvigorated its positions in Kornish region near the town of al-Baqouz in Southeastern Deir Ezzur, noting that the measure was adopted after ISIL's recent attack on army points that received US air support.
The ISIL terrorist group and the US fighter jets simultaneously attacked one of Syrian Army positions in Southeastern Deir Ezzur on Sunday.
The Arabic-language service of the Russian Sputnik news agency reported that the US warplanes pounded the Syrian Army's artillery unit in al-Askariyeh region West of Al-Bu Kamal in Southeastern Deir Ezzur.
It noted that the Syrian Army's artillery canon was destroyed in the attack and two Syrian soldiers were also wounded.
The Syrian state news agency (SANA) also reported that the ISIL terrorists stationed in the town of Baqouz also attacked the Syrian Army positions concurrent with the US airstrikes on army positions in Southeastern Deir Ezzur.
The Syrian Army troops warded off the ISIL's attacks against al-Sana'ah and al-Katf al-Maslakh in Western Euphrates, killing at least 20 terrorists, including suicide bombers, in fierce clashes with them.