Syria
Syrian Army Reinvigorates Positions in Homs Deserts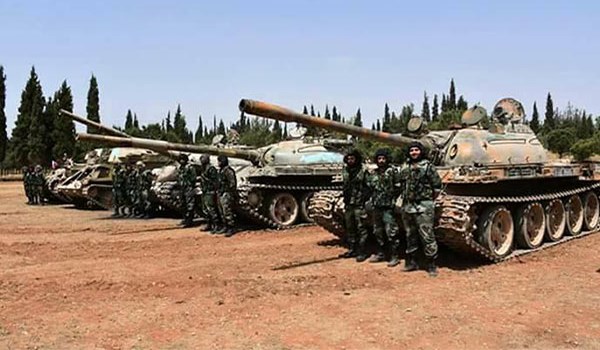 The Syrian army strengthened its positions in Badiyeh (desert) region of Homs province in line with preparations for an operation to purge the remaining ISIL terrorists from the region.
Field sources reported on Friday that the Syrian army has sent a large military convoy, consisting of hundreds of forces and military equipment, to its bases on Deir Ezzur-al-Sukhna road in the Eastern Badiyeh of Homs.
They added that the military convoy has been dispatched to the region after the ISIL terrorists' offensives against the military points in Badiyeh, noting that the Syrian army intends to fully cleanse the region from the remnants of the terrorists.
Meantime, the Syrian army forces attacked ISIL's movements with artillery and missile fire on the road linking Hamimeh region and T2 station in Eastern Homs, destroying several targets and leaving a number of militants dead.
In a relevant development earlier this month, the Syrian army arrested over 30 ISIL militants in its air and ground forces operations in Badiyeh (desert) region in Eastern Homs.
Battlefield sources in Eastern Homs said that the Syrian army troops engaged in fierce clashes with the ISIL terrorists in the surrounding areas of Hamimeh region near Palmyra in Eastern Homs, killing and injuring a number of militants.
Meantime, the Syrian fighter jets targeted and pounded the military positions and movements of the ISIL terrorist group near Badiyeh al-Sokhna, destroying several of their positions and killing a number of them.
The sources, meantime, said that the Syrian army troops managed to arrest 34 ISIL terrorists in Eastern Badiyeh.