Syria
Syrian Army, Resistance Forces Capture 2 Strategic Towns in Aleppo Province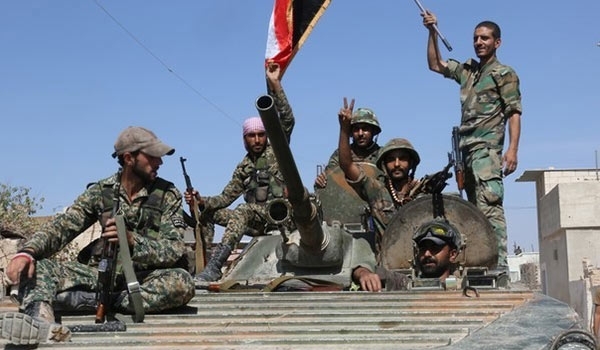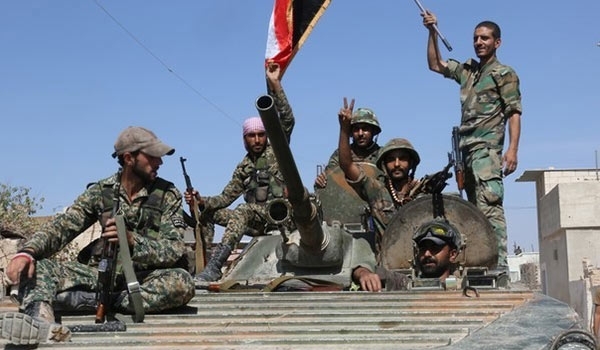 The Syrian army and Hezbollah forces seized back two strategic towns in the Southern parts of Aleppo province on Friday.
The army took full control of Banes and Rasm al-Sahrij towns in Southern Aleppo. The two towns are located to the West of al-Eis city.
The Syrian troops first entered the al-Hadhar city which is located 30 kilometers from the city of Aleppo and in less than four hours conquered the city forcing the terrorists of Al-Nusra Front and Ahrar al-Sham terrorist groups to move towards the nearby al-Eis town.
On Thursday, the Syrian army and Hezbollah resistance movement forces made huge advances in the Southwestern countryside of Aleppo, and prevailed over Al-Hadher region as the al-Nusra Front's stronghold.
Al-Hadher was al-Nusra's main stronghold in Aleppo and its collapse can leave a domino effect on other Southwestern parts of the Northern province in Syria and lead to expelling the terrorists from them.
A number of terrorists deployed in the city were witnessed to be withdrawing towards al-Ais town in the Western parts of al-Hadhar city.
The Syrian army and Hezbollah forces captured al-Eis heights in a consequent move on the same day.
Syrian army troops backed by Hezbollah forces and Russian Air Force gained full control over Tal Al-Eis on Thursday.
Syrian soldiers and their allies targeted the Takfiri terrorists' strongholds in Tal Al-Eis, killing and wounding a large number of militants and won back the region.
The Syrian army troops are prevailing over Aleppo with a faster momentum of victories in the province following its groundbreaking battle win in Kuweires military airport.
Field sources said on Thursday the army purged terrorists from the villages of Kherbet al-Mazare, Kherbet Nazha and Kherbet Mshaweh in the Southwestern countryside of Aleppo.
Earlier on Thursday, the Syrian army and Hezbollah won full control over two other strategic villages in Aleppo province, leaving scores of terrorist dead.
The forces liberated the villages of Musharfah Al-Murayj and Tal Al-Arba'een in Aleppo from the control of the Takfiri terrorists on Thursday, and killed tens of militants.