Syria
Syrian Army Restores Balla, Shalaf Towns in Rural Lattakia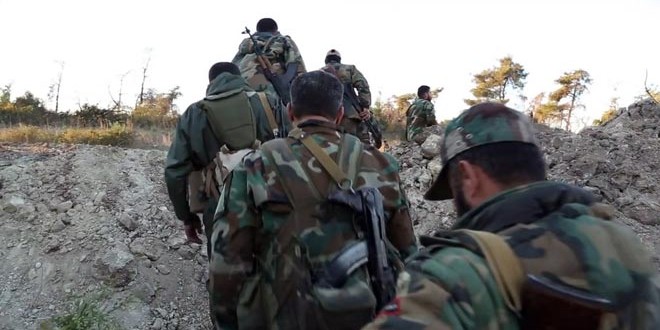 Units of the Syrian army, in cooperation with the allied forces, managed on Tuesday to restore security to the towns of Balla and Shalaf in northern Lattakia countryside following fierce clashes with the armed takfiri groups.

A military source told state-run SANA news agency that the military units eliminated terrorists' hotbeds and fortifications in the two villages, inflicting heavy losses upon them before many of them fled towards the Syrian-Turkish borders.

The source clarified that engineering units of the army dismantled explosives planted by terrorists to hinder the advance of the army units.

Army also restored the village of Ein Basour and the western part of the mountain between Shalaf & Knasba towns in the rural area.

On Monday, army units, in cooperation with popular defense groups, restored stability and security to Rweiset al-Jalta, Ard al-Qarm, Dahret al-Kroum and the Point 665 in Lattakia northern countryside.

Several terrorist organizations are stationed in northern and north-eastern Lattakia countryside, including Al-Nusra Front, the so-called 'Free People of the Coastal Area Brigade', 'Sultan Abdul-Hameed' Brigade, 'Islamic Movement for the Free People of Syria', and many others.

In Quneitra, army units, in cooperation with popular defense groups, thwarted terrorist organizations' infiltration and attack attempt towards Kroum Jebba, al-Ajraf and eastern al-Sammadaniya in the countryside of Quneitra.