Syria
Syrian Army Restores Calm, Security to Quneitra, Kills Several Terrorist Commanders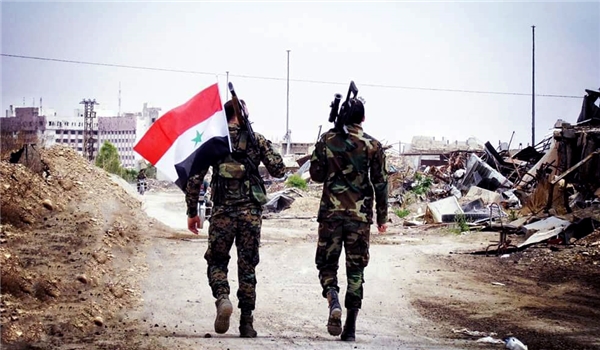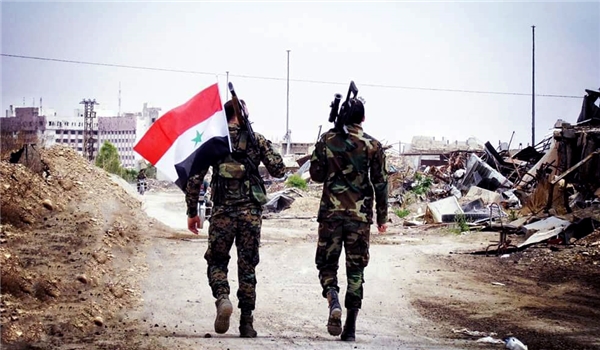 The Syrian Army troops and popular forces retook control over the entire positions they lost to the Al-Nusra Front (Tahrir al-Sham Hay'at or the Levant Liberation Board) in the town of Hader in Southeastern province of Quneitra yesterday, an Arab media outlet reported on Saturday.
The Arabic-language Elam al-Harbi said that the Syrian pro-government forces drove Al-Nusra out of their positions in Hader and restored security to the town and the region.
A large number of terrorists, including field commanders Sayel Hassan al-Eit nom de guerre Abu Zeid Azra'a, Abu Maqir al-Sini, Abu Abd al-Qanas and Seif Abu Es'haq were killed in the clashes.
The Al-Nusra military hardware also sustained major damage in the clashes.
A military source said that the Al-Nusra terrorists, backed up by Israel, intended to seize control over the road that connects Quneitra to Beit Jinn region Jabal (mount) al-Sheikh in Southwestern Damascus, but the army repelled their attack.
Photos released on social media in August showed that the Israeli medical personnel recovered wounded terrorists from the Syrian side of the Golan Heights and then treated them in medical centers on the Israeli-occupied side of the region.
According to sources, the militants were treated by the IDF Israel's medical centers only to then be sent back into Syria were they continue to commit terrorist acts.
Despite the fact that such gunmen were labeled as "rebels" by Western and Persian Gulf media due to their apparently "moderate" stance against the Syrian government, the actual reality stands that a vast majority of the Golan-based militants which Israel provides medical and military aid to were committed militants who pursue sectarian ideals in Syria.
Israel is known to have assisted Golan-based militants of the Al-Qaeda-linked Al-Nusra Front with medical aid and military equipment since as early as 2013.
In late-June of this year, Israel provided air support for terrorists' offensive against pro-government forces at the city of Madinat al-Baath.
Local sources disclosed in late June that several terrorists, who had been wounded in the battle with the Syrian government forces in Quneitra province, were taken to an Israeli hospital.
The sources reported that a number of injured members of Al-Nusra Front were transferred to the Israeli hospitals via al-Hamidiyeh region in Quneitra countryside.
The army troops repelled Al-Nusra Front's offensives in the Southwestern province of Quneitra, leaving tens of terrorists dead and many more wounded. Later, the Israeli aircraft attacked the Syrian government forces' tanks and artillery positions South-West of the war-hit country.
That was not the first time that Al-Nusra terrorists were transferred to Israeli hospital after sustaining injuries in clashes with the army soldiers.