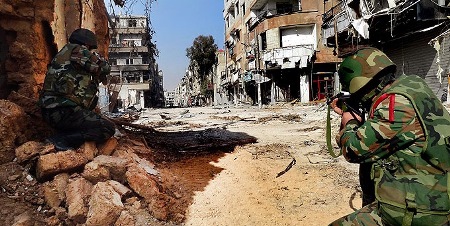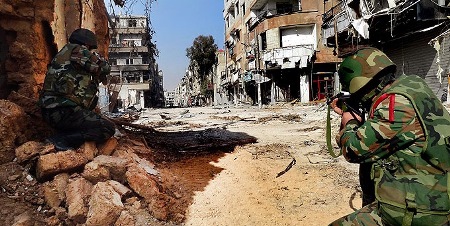 Syrian Arab Army units have retaken control on the strategic town of Khanaser in Aleppo countryside after a series of qualitative operations in the very town, killing and wounding scores of gunmen of both "Free Army" militia and "al-Nusra Front".
Breaking News correspondent said that the strategic importance of the town lies in the fact that it is located on the road that links between Hama and Aleppo, where supply lines of Defense Factories are located in al-Sfera town, in addition of being an outlet of "lifting the siege" which is imposed over Aleppo in general.
Army targets an expanded meeting of "Free Army" leaders in Lattakia coutnryside
Units of armed forces targeted a meeting of the leaders of armed groups in al-Rawdah village of Lattakia northern countryside, the thing that led to the killing and wounding dozens of fleeing gunmen and commanders of battalions and brigades. Riyad al-Asaad and the military commander of "Free Army" militia, Mustfa Bairak were identified among the wounded.
Ahmad al-Haj Ali, Ahmad al-Haj Mohamed, Ahmad al-Rahal, the leader of "al-Muhajireen battalion" in Lattakia mounts and Riyad Berru, the commander of "Ahel al-Sunneh" in Lattakia mounts were identified among the killed.