Syria
Syrian army retakes parts of town near Damascus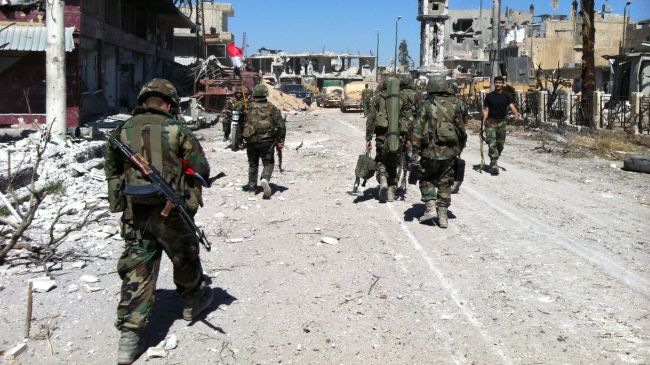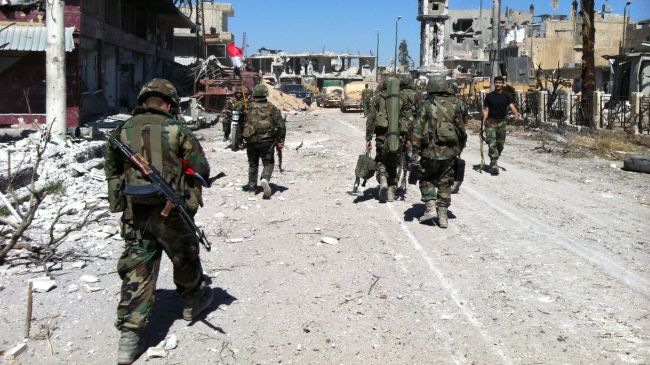 The Syrian army has managed to recapture parts of a key town east of the capital Damascus as government forces continue to make more gains in the fight against Takfiri terrorists.
On Thursday, Syrian soldiers regained control of parts of al-Mleiha situated in the Ghouta region east of Damascus, killing large numbers of foreign-backed militants during the operation, Syria's official news agency SANA reported.
According to the report, Syrian forces also retook control of a road between al-Mleiha and the village of Deir al-Asfir that served as a supply line to the extremist militants operating in the area.
In a similar operation, Syrian army units destroyed several machine guns and a tunnel used by the Takfiri militants in the northwestern province of Aleppo
They also dismantled several explosive devices planted by the terrorists near a military checkpoint in the area.
Meanwhile, government forces managed to push back the foreign-backed militants who were attempting to seize a region in the southwestern city of Dara'a.
Syrian armed forces also engaged in fierce clashes with the terrorists in the western city of Homs. The militants were trying to attack military checkpoints in the area.
Over the past months, the Syrian army has achieved major victories in its battle against Takfiri groups across the Arab country, particularly in the western region of Qalamoun near the Lebanese border.
The new army gains come as Syria is preparing to hold an important presidential election on June 3.
Last month, Syrian President Bashar al-Assad said the Takfiri war in his country had strongly shifted in favor of government forces as they had made continuous gains in their battle against terrorists.
President Assad has also pledged to strike terror "with an iron fist."