Syria
Syrian Army Retreats from Newly-Captured Settlement Southwest of Aleppo to Evade Casualties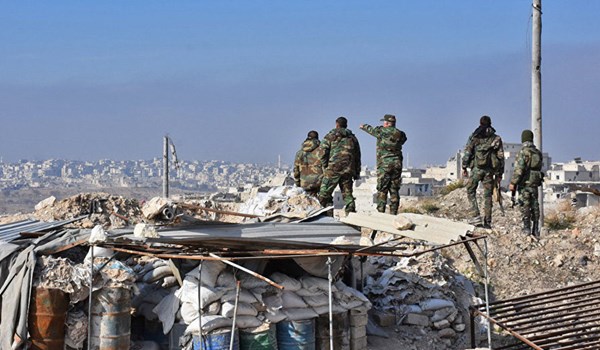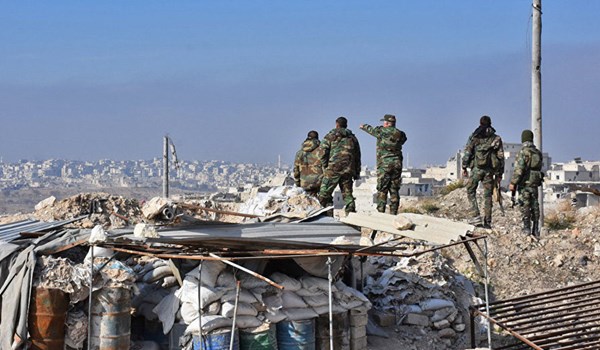 The Syrian Army troops pulled forces back from a key settlement they captured last night after the terrorist groups opened very heavy fire at residential areas in the Southwestern outskirts of Aleppo city, informed source said minutes ago.
The sources said that the army men drove terrorist groups out of al-Rashedeen5 settlement after eight hours of intense battle last night, but decided to leave the settlement under heavy mortar attacks by the terrorist groups on residential areas in the Southwestern outskirts of Aleppo city.
The terrorist groups deployed in al-Kalariyeh and Khan al-Assal regions shelled the Syrian Army positons and residential areas in al-Rashedeen 5, the sources said, adding the militants also carried out several counterattacks in the battlefield.
They added that the army men moved towards the Eastern parts of al-Rashedeen near South (bazaar) al-Jabas to decrease casualties after they came under massive mortar and artillery fire by militants..
The Al-Nusra Front (recently renamed to Fatah al-Sham Front) and its terrorist allies finally could enter al-Rashedeen and deployed their forces in a number of buildings, the sources said.
Settlements and towns in Western Aleppo have rather lengthy border with militant-held regions in Idlib and the terrorist groups can easily access fresh forces and equipment.
A field commander told FNA that terrorists' control over Rashedeen 1 (North Rashedeen) has made it difficult for the army men deployed in Jam'iyat al-Zahra and Research Center neighborhoods in the Western part of Aleppo city to continue their march further to the West.
He further added that continued dispatch of militants in al-Rashedeen 1 by terrorist groups has forced the army men to use their positions in Jam'iyat al-Zahra and Research Center neighborhoods to carry out an operation in the Western countryside of Aleppo to stop the terrorists' heavy mortar attacks on their positions.
On Wednesday, the army troops continued their advances against Al-Nusra Front in the Western countryside of Aleppo city, taking back a strategic region after inflicting a large number of casualties on the terrorists.
The army soldiers engaged in fierce clashes with Al-Nusra Front and managed to take back Souq al-Jabas strategic region West of Dhahiya al-Assad district, pushing terrorists far away from the city's Western countryside.
Al-Nusra suffered heavy casualties and its military equipment sustained major damage in the pro-government forces' advances.
In the meantime, the army's artillery and missile units targeted terrorists' concentration centers and movements in al-Rashedeen 4 and 5 and also in Souq al-Jabas region in the Southwestern countryside of Aleppo city.