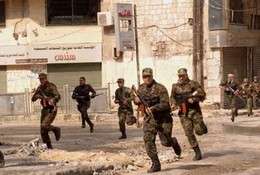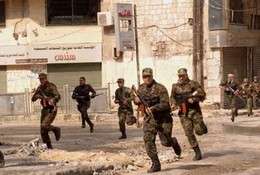 The Syrian Army units on Thursday regained full control over the towns of al-Sbeineh al-Kubra, al-Sbeineh al-Sughra anSyria Armyd Ghazal in Damascus Countryside province, having got rid of the terrorists' last gatherings in these towns, SANA reported.
Other areas had been brought under the army's control during the past month including al-Husseiniyeh, al-Zyabiyeh and al-Bweida.
A field officer told SANA that gaining control over these three towns is a new strategic achievement for the Syrian army in completely getting rid of the armed terrorist groups in the southern and the western Goutas, as it paves the way for taking over al-Hajar al-Aswad area.
The officer added that eliminating terrorists' gatherings in al-Sbeineh area means destroying a major launch pad they used for smuggling weapons and ammunition and accessing to the eastern Gouta.
He pointed out that large numbers of terrorists were killed, dens were destroyed and a big number of explosives and mines were dismantled in that targeted area during operations that took nine consecutive days.
Some terrorists fled towards al-Hajar al-Aswad area, a neighboring area to al-Sbeineh, the officer added.
In a different context, Foreign Minister Laurent Fabius said, in a television interview on Thursday, that Paris has "fairly recent" proof that four French journalists kidnapped in Syria are alive.
On June 6, unknown men detained Didier Francois, a seasoned war reporter for Europe 1 radio, and Edouard Elias, a photographer, at a checkpoint as the pair travelled to the country's second city of Aleppo.
On June 22, reporter Nicolas Henin, 37, and photographer Pierre Torres, 29, were seized while working in the northern city of Raqqa.