Syria
Syrian Army Seizes Vast Portion of Al-Bab-Aleppo Highway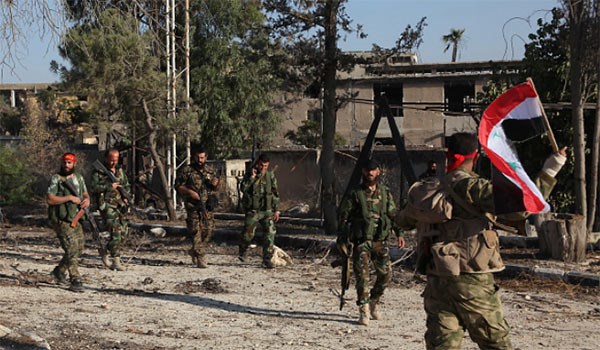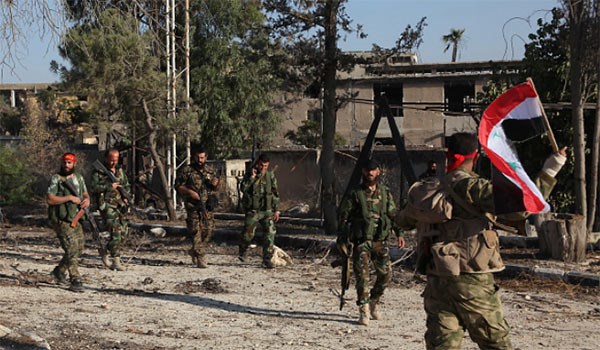 The Syrian army continued its military operations in the Eastern part of Aleppo province, seizing back a large section of the Al-Bab-Aleppo highway.
The Syrian army troops managed to take control of 16 kilometers of Aleppo-Al-Bab highway from Tayareh village to al-Madyouneh farms.
The Syrian army troops have also reclaimed an important village to the North of the Kuwaires Airbase after it was briefly seized by the ISIL terrorist group.
In response to the heavy attack on Rasm Al-Sarhan by ISIL late on Wednesday night, the army troops operating in the area conducted a tactical withdrawal from the village only to, within a matter of hours, launch a counter-attack.
The counter-attack proved successful as Syrian forces restored full control over Rasm Al-Sarhan after killing 20 ISIL terrorists, including the local commander who had planned the attack on the village.
In a relevant remarks on Monday, military sources said that the Syrian Army troops, backed up by the country's Air Force, had driven ISIL out of almost 90 square kilometers of lands in the Eastern territories of Aleppo province.
The sources said that the army launched operation with the back up of the warplanes to take back the surrounding areas of Kuweires airbase and then liberate the towns of Deir Hafer and al-Bab.
They added that the government forces have thus far freed approximately 90 sq/km of territories in their anti-ISIL operation in Eastern Aleppo.
The army's operation in Southern al-Bab has resulted in the liberation of over 25 villages and towns, while the Euphrates Shield Operation led by Turkish army and Ankara-backed militants in Northern and Western outskirts of al-Bab has been partially halted.
Field sources pointed out that the Syrian army will reach al-Bab's gates in the next few days, underlining that reinvigoration of security to Sheikh Najjar region in the Northeastern outskirts of Aleppo and Kuweires airbase are objectives of the Syrian soldiers' operation in Eastern Aleppo before going to Al-Bab.