Syria
Syrian Army sends entire 5th Corps to northern Hama for Idlib offensive
The Syrian Arab Army (SAA) deployed their entire 5th Corps to the northern countryside of the Hama Governorate this week as they prepare for the upcoming Idlib offensive.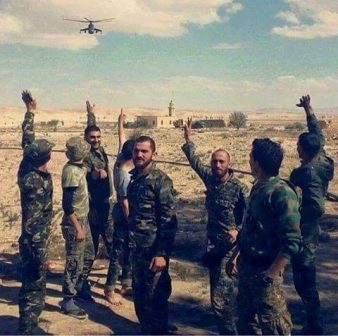 According to a military source in the government stronghold of Mhardeh, the Syrian Arab Army sent the entire Russian-trained 5th Corps to front-lines in northern Hama, where they will join both the 4th Armored Division and Tiger Forces in their upcoming operations.
The 5th Corps of the Syrian Arab Army was formed shortly after the Russian military deployed to Syria in late 2015.
Since their formation, the 5th Corps has participated in several battles against the jihadist rebels and Islamic State (ISIS/ISIL/IS/Daesh) forces.
The 5th Corps has proven incredibly effective on the battlefield as their forces have yet to lose any battle since they joined the war.
The same military source in Mhardeh told al-Masdar this morning that the Syrian Arab Army's high command is expected to send more reinforcements to the Hama-Idlib axis in the next few days.
In particular, the Syrian Arab Army's 3rd and 7th Corps, along with the Palestinian-led Al-Quds Brigade, will be moving from eastern and northern Syria to the front-lines in the Hama and Idlib governorates.