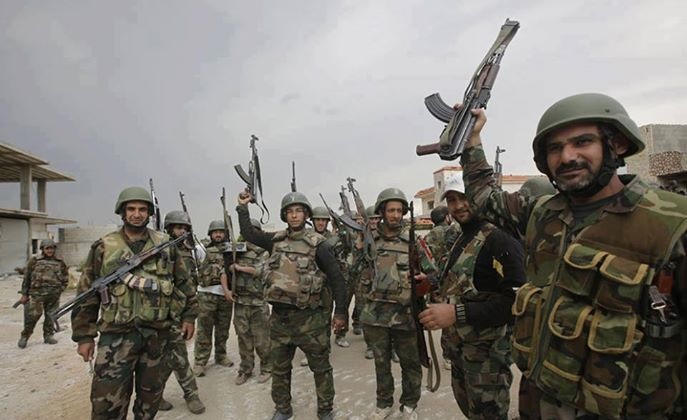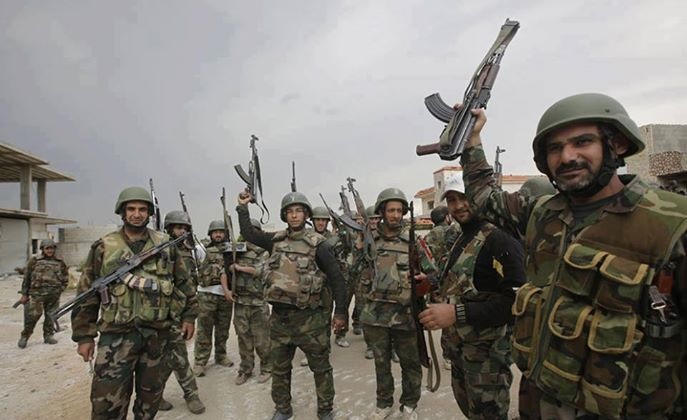 The Syrian army on Monday carried out wide operations against terrorists' gatherings, killing dozens, injuring others and destroying their weapons in several areas around the country, according to SANA.army
The Syrian army eliminated terrorist groups in Ein al-Jamajmeh village, Aleppo, while weapons and ammunition loaded in terrorists' cars were destroyed on al-Bab-Aleppo road.
The Syrian military also killed members of armed terrorist groups in the areas of Dawar al-Dalleh in Maaret al-Numan and Kafr Battikh, Fillon, Korin and Binnesh in Idleb.
The Syrian army ambushed a group of terrorists in Abo al-Shamat to the east of al-Dmeir city in Damascus Countryside, according to a military source.
In Daraa, the Syrian army further foiled a suicide terrorist's attempt to detonate a car bomb packed with a big amount of explosives near Bilal Mosque in al-Manshiyeh area.
An official source told SANA reporter that the army members destroyed the car before arriving in the densely-populated neighborhood, killing the suicide terrorist with no casualties among citizens.
The source noted that the operation was carried out in cooperation with the residents who informed of the car bomb which was prepared in al-Nakhleh area near al-Sad al-Sharqi in Daraa where armed terrorist groups affiliated to al-Nusra Front were stationed .
In Hama the Syrian army units killed 6 terrorists and destroyed their cars which are loaded with weapons and ammunition in Kharab Askar and Tal al-Jayer areas in Qamishli countryside, according to an official source.
In a different context, Kurdish fighters have driven ISIL militants from 19 towns and villages across northeastern Syria in recent days, a week after capturing a key Iraqi border crossing, according to the opposing UK-based Syrian Observatory for Human Rights.
"Since Saturday, a total of 19 localities have fallen into the hands of Kurdish fighters."