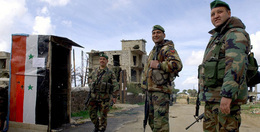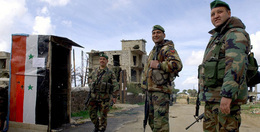 The Syrian army units on Wednesday carried out accurate operations against terrorists, killed dozens, destroyed their weapons and foiled infiltration attempts in several areas across the country, SANA Syria Armyreported.
Units of the Syrian army eliminated armed entire terrorist groups during a series of operations in al-Qaboun and other towns in Damascus countryside and destroyed their weapons and ammunition.
An army unit killed members of an armed terrorist group that infiltrated into al-Bassel Hospital in Deir-Attiyeh in Damascus Countryside.
An official source told SANA that an armed terrorist group infiltrated Wednesday morning into the Hospital and tried to sabotage its equipment before army units confronted them and secured the Hospital and its cadres.
Earlier on the day, two suicide terrorists blew up two car bombs consequently at the entrance of the Hospital, claiming the lives of a number of guards at the Hospital's checkpoint.
The Syrian army also fully controlled the town of Kherbat Ghader al-Bustan in Daraa western countryside after eliminating the last of the terrorists' gatherings in the town and killed large numbers of terrorists in many areas in the province.
SANA added that the army ambushed a number of terrorists on Tseil-Nawa road and killed 15 terrorists and injured others.
Units of the Syrian armed forces on Wednesday foiled armed terrorist groups' attempts to infiltrate from Lebanon into Homs countryside, inflicting heavy losses upon them.
SANA pointed out that that units of the armed forces in cooperation with the border guard personnel eliminated a big number of terrorists who tried to infiltrate from Lebanon across al-Haswani, al-Mathomeh and al-Qaa sites in Homs countryside, while the others fled back into Lebanon.
The source added that terrorists' gatherings and hideouts were destroyed with all weapons and ammunition inside them in al-Zara grove, al-Khaldiyeh,al-Ghasbiyeh, al-Amriyeh and Talbiseh, killing and injuring a number of terrorists.