Syria
Syrian Army Troops Intensify Offensives on zionist servant Jeish Al-Fatah Terrorists in Aleppo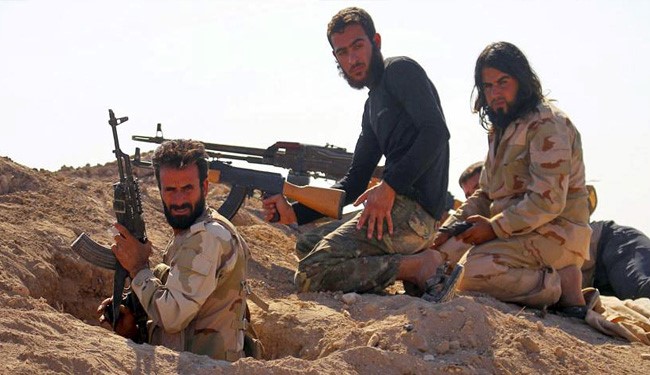 Syrian army soldiers and popular forces clashed fiercely with Jeish al-Fatah terrorist group in the surrounding areas of the military academy buildings and the hilltop overlooking the buildings in Aleppo province as the country's and Russian air forces pounded the terrorists' gathering centers in the area.
Fierce clashes are also underway in Project 1070 and the weaponry academy came under heavy airstrikes.
Meantime, the Syrian army pounded the terrorists' gathering centers near al-Moshrefa mine with several rockets.
The Syrian army and the terrorists are also engaged in tough battle inside the military academy buildings as the Russian and Syrian warplanes pounded the terrorist groups' gathering centers.
On Thursday, the Syrian army soldiers and popular forces prevented the Jeish al-Fatah terrorists from advancing near the strategic hilltop of Um al-Qara'a to the South of Aleppo city.
Syrian government forces inflicted major losses on Jeish al-Fatah and destroyed at least three tanks and five machinegun-equipped vehicles of them in the battlefields.
Jeish al-Fatah also suffered a heavy death toll and retreated from the battlefront.
Earlier reports said that Russian and Syrian warplanes launched a number of combat flights over military academy buildings in the Southern part of Aleppo city, inflicting major losses and heavy casualties on Jeish al-Fatah terrorists.
Jeish al-Fatah's gatherings in Southwestern military academy were bombed heavily by the Russian and Syrian fighter jets, leaving scores of the militants dead or wounded and destroying several machinegun-equipped and armored vehicles.
In the meantime, Syrian army's artillery units shelled a column of Jeish al-Fatah's fighter leaving the battlefield in Southern part of Aleppo and killed or wounded scored of them.