Syria
Syrian Army Wards Off Tahrir Al-Sham Offensives from Demilitarized Zone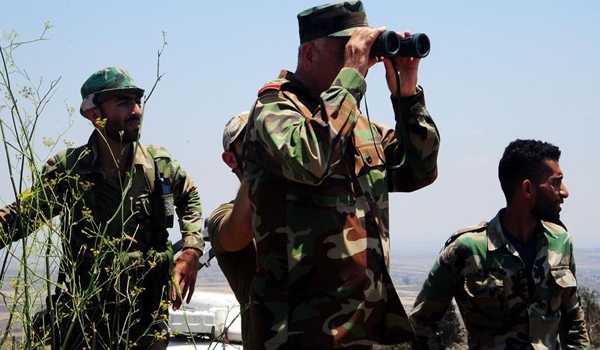 The Syrian army fended off attacks by Tahrir al-Sham al-Hay'at (the Levant Liberation Board or the Al-Nusra Front) from the demilitarized zone against the military points in Northern Hama and Southern Idlib.
The Syrian army units targeted Tahrir al-Sham's moves from Halfaya, al-Latamineh, al-Sakhar and al-Sarmaniyeh regions towards the military points in Northern and Northwestern Hama, leaving several militants dead and wounded and forcing others to withdraw.
Meantime, a military source reported that the Syrian army forces destroyed the terrorists' hideouts near the towns of al-Latamineh and Kafr Zita with bomber drones.
Also, in Southern Idlib, the Syrian army forces targeted the terrorists' positions near Khan Sheikoun, Jisr al-Shaqour, Tahtaya and Basileh in response to their offensives, killing a number of terrorists and destroying their military equipment.
Meantime, a field source in Northern Syria reported that the Turkish army has strengthened its positions in occupied areas of Idlib province by sending a new convoy of several trucks carrying logistical aid, cement blocks and prefabricated houses to the region.
In a relevant development earlier this month, the Syrian army heavily pounded the terrorists' military positions in Northern Hama and Southern Idlib in response to their attacks on government forces from the demilitarized zone.
The Syrian Army's missile and artillery units pounded the movements of Tahrir al-Sham al-Hay'at and their allies in Tal Osman, Mourek and al-Janabareh in Northern Hama as well as al-Sahrieh, al-Hawija, al-Sharia'a and al-Sarmanieh in Western Hama, inflicting heavy losses on the terrorists.
In Southern Idlib, the Syrian army troops also engaged in heavy clashes with the terrorists who were intending to penetrate into the government forces' positions from the surrounding areas of Ma'arat al-Numan, Talmanes and al-Katibeh al-Mahjoureh, killing a large number of them.
The Syrian Army troops, meantime, destroyed several military vehicles and hideouts of the terrorists in Wadi Huweir, Khan Sheikhoun and Talmanes in Southern Idlib.