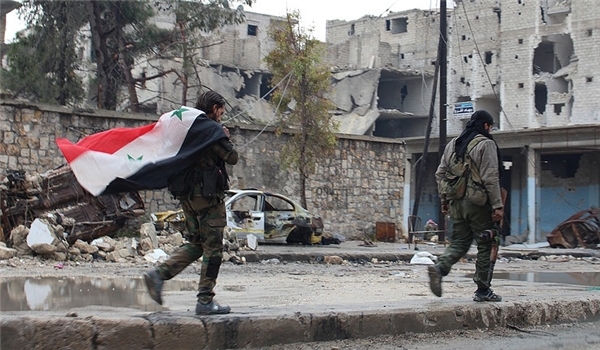 The Syrian army regained control of another town during the military operations against the ISIL terrorists in Eastern Aleppo.
The army forces engaged in clashes with the ISIL militants, and seized back control of Rasma al-Faleh town in the Eastern parts of the strategic city of Deir Hafer.
The Syrian army forces on Friday completed their siege over Deir Hafer, the ISIL's most important base in Eastern Aleppo.
The army units started massive and heavy attacks against the terrorists in Deir Hafer region from the two Northern and Southern directions, and liberated the two towns of Jeni al-Salameh and Um al-Mara near Um Adaseh and Khalileh towns just to the East of Deir Hafer.
The ISIL is now fully besieged by the government forces from four sides in Deir Hafer after the army liberated Um Tineh village – just to the North-East of Deir Hafer – and the nearby areas.
Also, all supply routes of the terrorist group in the region have been blocked.
A military source said that the Syrian soldiers are on the verge of a complete victory and will soon capture Deir Hafer as ISIL's defense lines are collapsing in the city.