Syria
Syrian Army's east Aleppo offensive sees big territorial changes: maps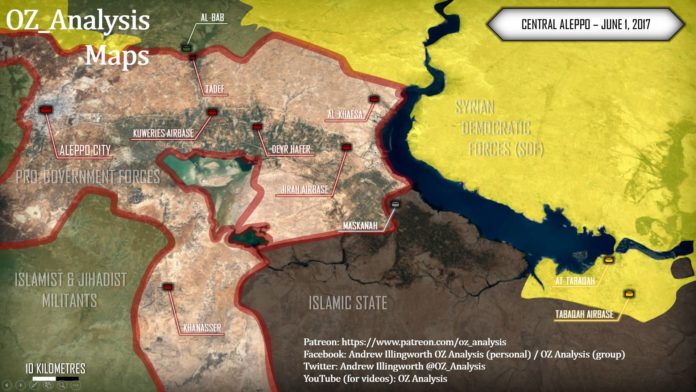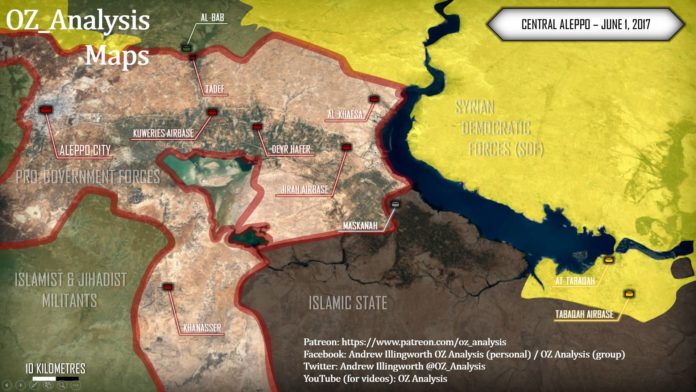 The Syrian Arab Army's (SAA) east Aleppo offensive has been incredibly successful these past six months, as their forces have managed to recover much of the territory occupied by the Islamic State (ISIL) terrorists in the province.
January 2017: 
The Syrian Arab Army's Tiger Forces kicked off their military operations in the new year by targeting the Islamic State's last positions between the Kuweires Airbase and Al-Bab.
Despite the fact the Turkish-backed rebels seized Al-Bab before they could reach it, the Syrian Arab Army did manage to liberate over hundred small villages between the provincial capital and Al-Plateau.
March 2017:
In March, the Syrian Arab Army's offensive was intensifying, as their forces pushed to the western bank of the Euphrates River in order to cutoff the Turkish-backed rebels from southeast Aleppo.
March-May 2017
Two months following their arrival at the Euphrates River, the Syrian Arab Army had not only liberated the strategic city of Deir Hafer, but also, the Water Pumping Station at Al-Khafsa.
The capture of the Water Pumping Station effectively ended Aleppo's two year long water crisis.
With Deir Hafer liberated in April, the Syrian Arab Army then turned their attention to the Jirah Military Airbase.
This military installation would be completely liberated from the Islamic State militants during the first week of May.
Present: 
The Syrian Arab Army is now pushing to the Islamic State's last stronghold in the Aleppo Governorate; if successful, they will be able to enter the western countryside of the Al-Raqqa Governorate for the first time since 2014.
ALSO READ
US starts new arms deliveries to Kurds