Middle East
Syria
Syrian Forces Clash with U.S, Israel-backed and armed terrorists, Seize Weapons in Aleppo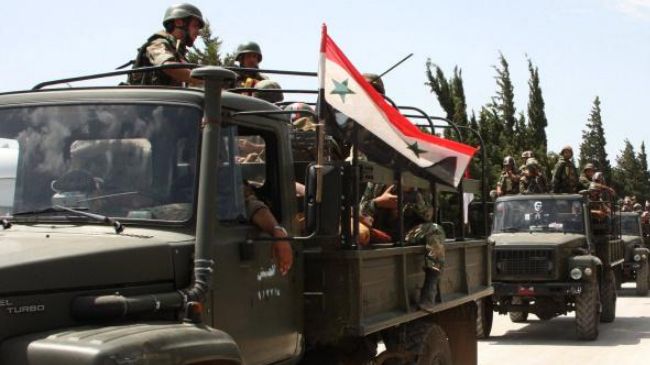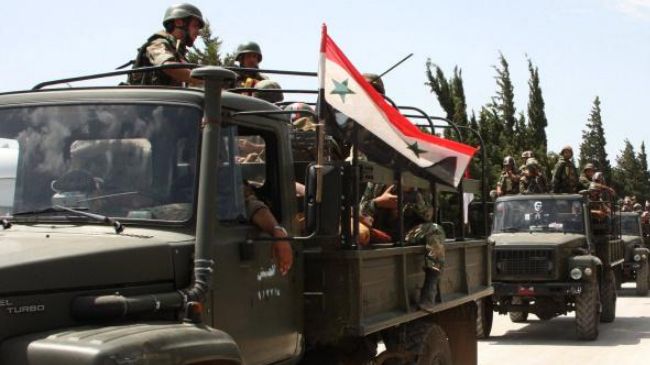 Syrian forces clashed with armed groups in Qebtan al-Jabal, to the north of Aleppo , on Sunday and destroyed three pick-up trucks equipped with machineguns causing heavy losses among them.
A source in the province told SANA reporter that leader of a terrorist group Mahmoud al-Ashqar and Omar al-Ahmad were among the dead. The source added that the authorities also confronted an armed terrorist group in Hayyan area, to the north of Aleppo, killing five terrorists, two of whom are non-Syrians, in addition to seizing 4 guns, an American sniper rifle inside their car.
In the same context, the authorities set up several ambushes for armed terrorist groups in Hritan town, killing dozens and wounding others.
In the meantime, AFP said that regime troops stormed the Barzeh district of Damascus, scene of heavy clashes in recent days, as fighting engulfed several neighbourhoods of Syria's second city Aleppo on Sunday.
"Troops have stormed the northwestern Barzeh district of Damascus with tanks and armed personnel carriers," AFP quoted the Syrian Observatory for Human Rights, noting snipers had been deployed on the district's rooftops.
"Two helicopters are pounding the Barzeh district, and towers of smoke are rising above the neighbourhood," the Observatory's Rami Abdel Rahman told AFP. "The deployment in Barzeh is very heavy."
Regime forces also deployed in the outskirts of the Mazzeh district of the capital, he said, adding one was killed there on Sunday and several were wounded.
Elsewhere, clashes engulfed several districts of Aleppo, scene of heavy fighting since Friday.
The army's assault on Salaheddin began at dawn, in a bid to reclaim it from 'rebels' hands, an anti-regime activist told AFP. "Violent clashes have been taking place since the early morning," the activist said on condition of anonymity.
Meanwhile, Syrian forces regained control of a border crossing along the northern frontier with Iraq on Sunday, the governor of the Iraqi province where the crossing is situated told AFP.
"This morning, the Syrian army took control of the Yarabiyah border crossing without any armed clashes," Nineveh Governor Atheel al-Nujaifi told AFP by telephone. "The gunmen who were at the border crossing left at night, and in the morning, a Syrian force came and took control of the border again." Nujaifi added: "For us, the border will be open only to receive Iraqis from the other side, whether it was controlled by the Syrian army or the Free Syrian Army, but all other kinds of activities are stopped."