Syria
Syrian forces continue their gains against Daesh in Raqqah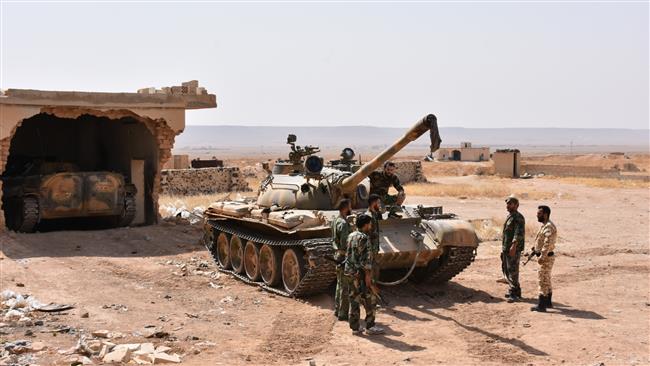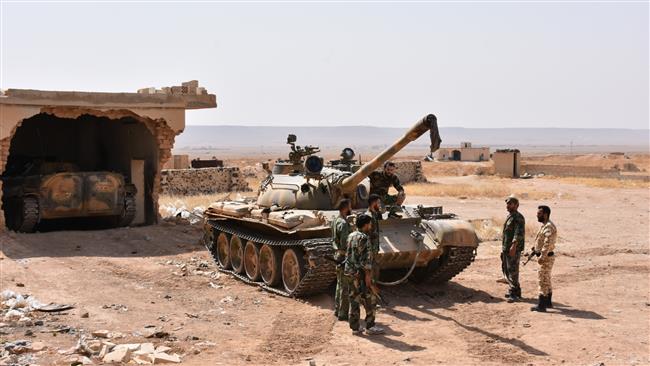 The Syrian army has regained control of an oilfield in Raqqah after killing all of its occupying Daesh terrorists as part of their operations to fully liberate the country from extremism.
According a military source on Monday, the al-Deilaa oilfield, located in the province's southwestern countryside, was liberated following heavy clashes with the Takfiri terrorists.
The source added that three car bombs were also neutralized during the operations.
On Saturday, Syrian government forces managed to seize back oilfields in Raqqah and in the eastern province of Dayr al-Zawr from the terrorists.
Dozens of terrorists were also killed and wounded as government soldiers engaged in fierce clashes with the Takfiris while attempting to retake the oilfields.
Syrian army destroys Daesh tunnel in Dayr al-Zawr     
Also on Monday, Syrian forces successfully destroyed a 33-meter long Daesh tunnel complex in Dayr al-Zawr's al-Jabieleh neighborhood that the terrorists were using as a hideout.
The four-floor tunnel system was destroyed after the Syrian air force carried out several airstrikes against the terrorists in the province.
Artillery strikes were also launched against Daesh positions and ammunition depots in the villages of Ayash, al-Jneina, al-Husseiniyeh, al-Tharda junction, al-Panorama, Huweijit Saqr.
Meanwhile, the so-called Syrian Democratic Forces (SDF) are engaged in severe clashes with the Daesh in Raqqah.
Noting that its forces have reached the center of the city, the SDF said that 11 of its troops have been killed since clashes erupted on Sunday.
Backed by a US-led coalition that purports to be fighting Daesh, SDF fighters first broke into Raqqah on June 6.The fighters have been engaged in fierce fighting with Daesh as they push closer in on the city center.
The SDF, made up of an alliance of Arab and Kurdish fighters, is supported by the US-led coalition with artillery and airstrikes, much to the dismay of Turkey.
Daesh seized Raqqah in 2014, the same year when it started its campaign of terror in Syria. It then proceeded to capture large parts of Syrian territory. But the terrorists have suffered major blows by the Syrian army and allies in recent months.