Syrian forces inflict crushing blows on terrorists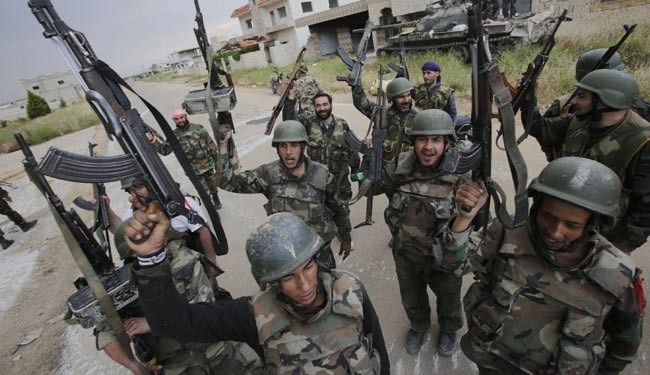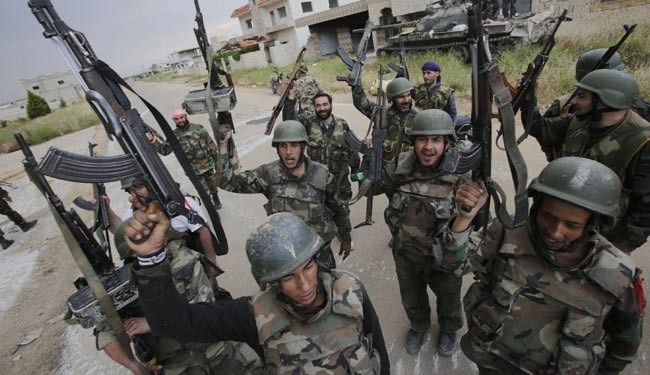 Syrian military forces have carried out new operations against foreign-backed insurgents across Syria, crushing their staging areas and hideouts, thwarting their infiltration attempts and eliminating their war machines and fighting forces around Daraa, Damascus, Aleppo and Homs.
In the outskirts of Daraa, government troops foiled an infiltration attempt by armed insurgents towards Jadia, killing many of the intruding militants and injuring others, Syrian state news agency SANA reported Sunday.
Army units further eliminated a number of terrorists including snipers around Burj al-Mualemeen building in Jobar area of Damascus countryside, in addition to eliminating a militant hideout along with the weapons and ammunition in and around the compound.
Meanwhile, terrorists from the al-Qaeda-linked "Islamic Front" group were killed or injured in block 9 in Adra Industrial City and their weapons were destroyed in an army operations.
Other army units pursued terrorist groups at the outskirts of al-Mleiha town and near Tameco pharmaceutical company in the outskirts of capital Damascus.
Terrorist hideouts were destroyed in the towns of Deir al-Asafir, Zebdin, and Hadithat al-Jarsh in the Eastern Ghouta area, leaving many terrorists dead or injured, most of them from the notorious al-Nusra Front terrorist group.
Syrian forces further carried out concentrated efforts in Khan al-Sheih and nearby farms, and destroyed several cars transporting weapons and ammunition along with the insurgent elements inside them on al-Nab'a road, while another unit eliminated a terrorist group and destroyed their weaponry in the mountains of Afra village in al-Zabadani area.
Moreover, government troops confronted armed insurgent groups that were attempting to attack a number of military posts in Ariha in the surrounding of Jabal al-Arbaeen in the outskirts of Aleppo.
A large number of insurgents were killed and injured in the operation while their military equipment were destroyed.
Also in the Idleb countryside, military source told SANA that the army units targeted terrorist staging areas in Maar Zaf town, Bzabour villages and in the area surrounding al-Arba'een mountain, killing and injuring scores of insurgents and eliminating their war machinery.
Meanwhile, in Homs countryside, army units foiled insurgent attempt to infiltrate from al-Rastan towards military checkpoints to the west of al-Rastan Dam, inflicting heavy losses on their forces.
Syrian troops also targeted armed elements in Taldo and Kfar Laha villagesin al-Houleh in Homs suburbs, killing and injuring scores of them.