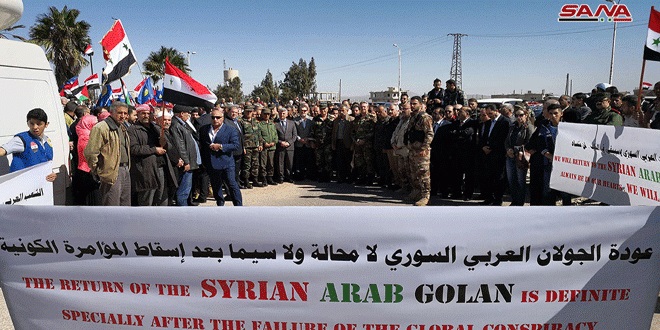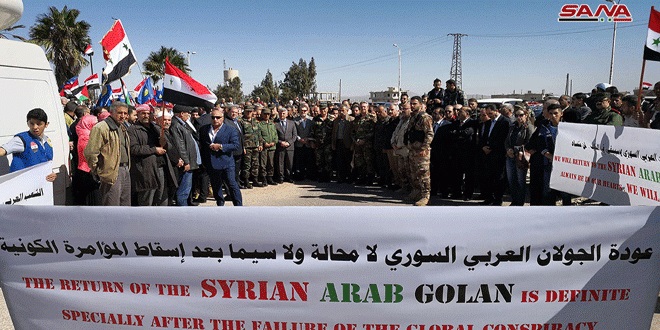 Thousands of Syrian Druze in the Golan Heights refrained from casting their ballots yesterday in the Israeli municipal elections. They, instead, protested outside the gates of polling stations in the Israeli-occupied Golan, tried to block the entrance to the polling place in Majdal Shams, a town with the largest Druze community in the area, and called for an election boycott.
The Zionist entity held municipal elections, for the first time, in several Druze villages in the Golan Heights that were occupied in 1967.
Sheikhs and clergymen from Syrian Druze, who refuse to recognize Israeli occupation of their lands and remain loyal to Syrian authorities, issued a fatwa (Muslim religious ruling) prohibiting the participation in the elections.
"Taking part in the election assists the occupation in entrenchment of Jewish control over the city and changing its historic and religious character," said the fatwa, which was originally revealed by the Makor Rishon newspaper.
"The Golan is Syrian; it doesn't need an identity," chanted the protesters who were wounded after Israeli military police wearing helmets fired tear gas to stop the protests and clear the path for the voters.
The Druze are an independent Arab minority that embraces one of the doctrines of Islam. Over 22,000 Druze live in the occupied Golan. Most of the Golan's Druze have chosen not to take Israeli citizenship. Despite of being under the Israeli occupation for more than half a century, the majority of Golan's Druze refuse to give up their Syrian identity.