Syria
Syrian government forces, allies inflict heavy losses on Daesh terrorists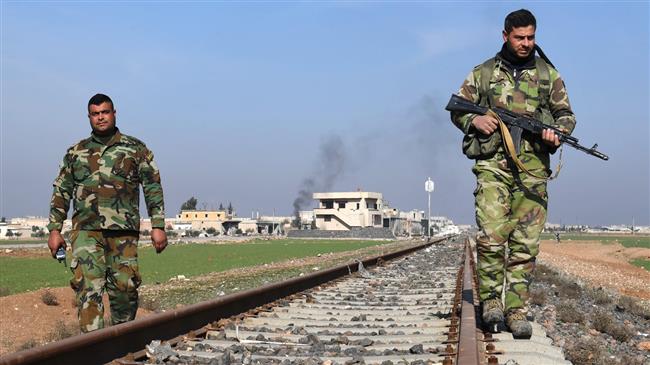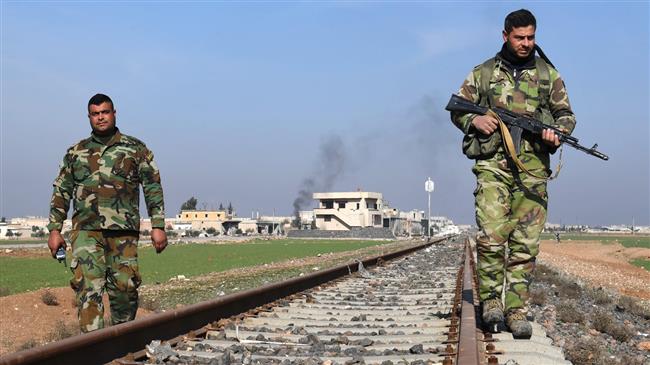 Syrian government forces, supported by allied fighters from popular defense groups, have carried out fresh operations against the remnants of Daesh Takfiri terrorists across the violence-plagued Arab country, inflicting substantial losses on them.
A military source, speaking on condition of anonymity, told Syria's official news agency, SANA, that army units and their allies had established full control over the villages of al-Naqroush, Southern al-Talal, Eastern Rajm al-Abil as well as Western Rajm al-Abil in the northeastern part of the country's western province of Hama.
The source added that scores of Daesh extremists were killed or wounded during the military operations, and a considerable amount of their munitions was destroyed as well.
Syrian bomb disposal units alter combed the liberated areas for hidden ordnance and explosive devices, which Daesh Takfiris had planted there to slow down the advance of the army forces and pro-government fighters.
Separately, Syrian army soldiers regained control over a number of town and villages in the northwestern province of Idlib, namely Ghaital, Khirbet Maradish, Khirbet Umm Rajoum, Rasm Misha'al al-Batushiya and Ghazila.
Syrian army units, in cooperation with allied forces, also clashed with terrorists from the Jabhat Fateh al-Sham Takfiri group, formerly known as al-Nusra Front, as the latter attacked military outposts in Tal al-Sultan village of the country's northern province of Aleppo.
Syrian troops thwarted the assaults, killing and injuring many terrorists in the process. They also destroyed a car bomb before it could reach its designated target.
Syria has been gripped by foreign-backed militancy since March 2011. The Syrian government says the Israeli regime and its Western and regional allies are aiding Takfiri terrorist groups that are wreaking havoc in the country.