Middle East
Syria
Turkey
Syrian govt. forces liberate more areas in Idlib province from terrorists' grip
Syrian army soldiers, backed by fighters from allied popular defense groups, have liberated more areas in the country's northwestern province of Idlib from the clutches of foreign-sponsored Takfiri terrorists, further tightening the noose around the extremists in their last major bastion.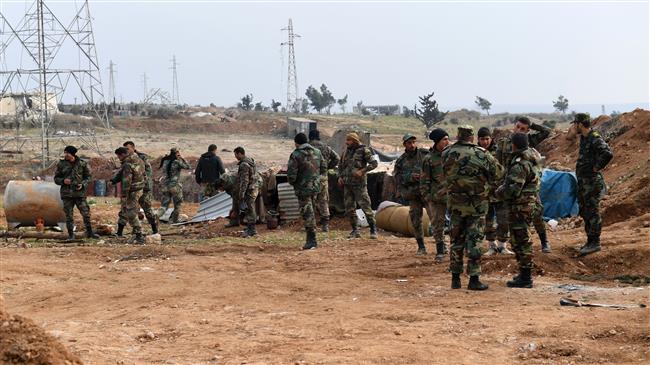 Syria's official news agency SANA reported on Thursday that Syrian army troops and their allied forces had established control over the villages of Maar Dibsah, Khan al-Sabil, Joubas and Mardikh.
The report added that a number of militant positions were completely destroyed as Syrian army artillery units struck them.
SANA noted that government forces, while combing the liberated villages, found underground tunnels and trenches that terrorists used to carry munitions, transfer reinforcements and hide from Syrian army airstrikes.
Weapons, ammunition left by terrorists found in Yalda town, Damascus Countryside Damascus Countryside, SANA- While completing the process of securing the areas which had been liberated from terrorism by the Syrian Arab Army, the authorities on Wednesday found weapons and ammunition, some of them are U.S.-made, as they were left by terrorists in the town of Yalda in Damascus Coun
On Wednesday, Syria's General Command of the Army and Armed Forces said in a statement that government forces were in full control of Ma'arrat al-Nu'man city, which lies 33 kilometers (21 miles) south of Idlib.
"Our armed forces continued operations in southern parts of Idlib with the aim of putting an end to crimes committed by terrorist groups, which continue to target safe zones, civilians and army posts with rockets and explosives," the statement added.
Syrian forces fully recapture main militant stronghold in southern Idlib Syrian government forces establish full control over a strategic city in the country's northwestern province of Idlib.
It further noted that Syrian soldiers have managed to establish control over more than two dozen villages and towns, including Ma'ar Shimmareen, Tell Mannas, Maar Shamshah, Ma'ar Shoreen, al-Za'lanah, Babeela, al-Dana, al-Hamidiah, Bseideh, Tqana and Kafr Basin, after days of intense fighting with Takfiri militants.
The statement also underlined that the Syrian army will continue to carry out its constitutional, national and moral duties to purge the last remnants of terror outfits from the entire Syrian soil.
Separately, Syrian army troopers and their allies captured a number of areas in the western countryside of Aleppo province.