Syria
Syrian gov't pays attention to return of refugees, displaced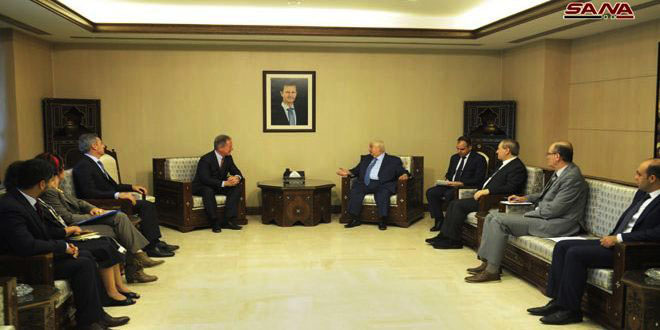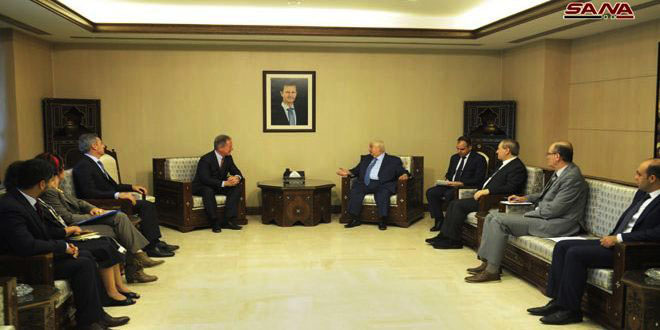 Syrian Deputy Prime Minister, Foreign and Expatriates Minister Walid al-Moallem on Tuesday received World Food Program (WFP) Executive Director David Beasley and the accompanying delegation.
The two sides discussed the cooperation between the Syrian Arab Republic and the WFP and means to enhance it in a way that would improve the humanitarian situation and meet the basic humanitarian needs of the Syrian citizens who have been affected by the crisis, SANA reported.
Minister al-Moallem reviewed the efforts exerted by the international organizations including the WFP to alleviate the difficult circumstances which the Syrian citizens are suffering from, particularly after the improvement of the security conditions and as the refugees and displaced started to return following the victories achieved by the Syrian Arab Army against terrorism in many areas across Syria.
He affirmed that the Syrian government pays great attention to the return of those refugees and displaced, and it exerts great efforts to provide them with a dignified life.
Al-Moallem expressed Syria's appreciation of the efforts exerted by the WFP in the humanitarian domain, asserting the readiness of the Syrian government to enhance cooperation with the WFP away from any political agendas which some parties are trying to impose.
For his part, Beasley thanked the Syrian government for its cooperation with the WFP and for the efforts it exerts to help the Program deliver humanitarian aid to those who need it.
He called upon the international community to exert more efforts to help the Syrian people who are experiencing difficult situations.
Beasley affirmed that the WFP exerts all possible efforts to raise the level of financing for its activities in Syria, expressing appreciation of the standing relation between Syria and the WFP in the face of the challenges on the ground, as this relation contributes to overcoming the obstacles facing relief and humanitarian work.
For his part, Beasley said the WFP will work to increase its contribution to aiding farmers in improving their production and providing them with water, in addition to increasing aid provided to people living in villages, including students.