Syria
Syrian Gov't Troops Extend Control over Douma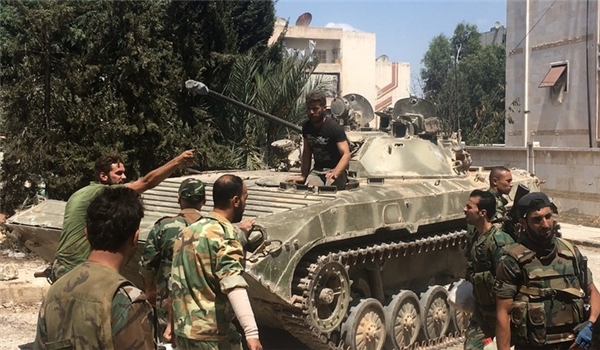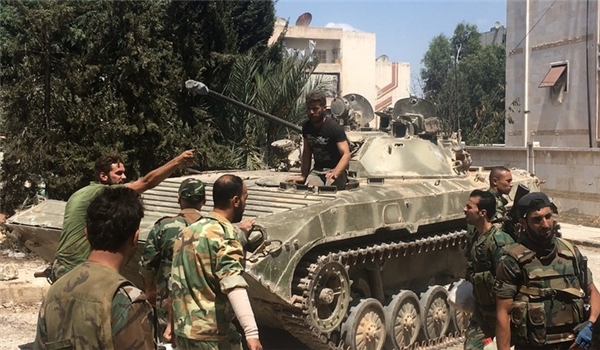 The Syrian army units and their allies advanced in areas near al-Rayhan town in Damascus' Eastern Ghouta region, extending their control over the surrounding areas of Douma city.
Concurrently with the Syrian troops' operations in Rayhan, the terrorist groups targeted the army's gathering centers in Hawsh Nasiri region in Eastern Ghouta.
Other reports also said that the army attacked the terrorists' positions in Wadi Bardi region, leaving tens of militants dead and wounded.
The Syrian military forces launched heavy attacks on terrorists' concentration centers in Eastern and Southwestern parts of Damascus province on Wednesday, pushing militants back from more strongholds.
The Syrian Army targeted terrorists' centers along Damascus-Homs highway.
They meantime pounded the farms near Douma, killing and injuring several terrorists.
Syrian soldiers engaged in heavy fighting with militants in al-Zabadani in Northwestern Damascus.
Syrian choppers for their part bombed militants' positions near Khan al-Seih in Western Ghouta.
Syrian army also advanced against terrorists in Hawsh al-Fareh and Tal Salwan and took back at least one square kilometer.