Syria
Syrian Mufti calls on people of the world to work for ending unjust war on Syria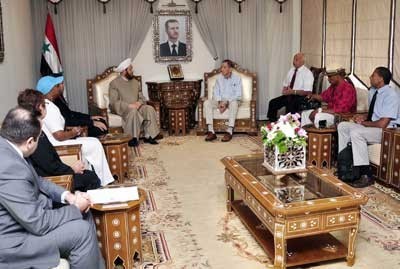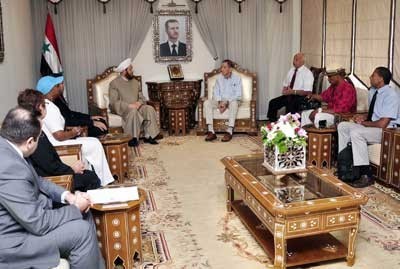 Grand Mufti of Syria, Ahmad Badreddin Hassoun, called on all honest people of the world to put an end to the unjust war and the misleading media campaign launched against Syria.
The Grand Mufti asserted during a meeting with a delegation from the Center for International Intervention in Solidarity with the Syrian People, chaired by former U.S Justice Secretary, Ramzi Clark, the necessity of conveying the true image of events taking place in Syria, adding that the Syrian national fabric is targeted by this unjust war.
20130917-203719.jpg
For his part, Clark stressed that what is happening in Syria indicates that the time has come for peace to be realized and to end the wars launched by the U.S. Administration on the peoples of the world.
Meanwhile, the Grand Mufti stressed the importance of raising generations based on belief in the causes of their homeland.
During a meeting with a Yemeni educational delegation, Mufti Hassoun pointed out to the role of teachers in linking the Arab generation to their homeland's causes.
In turn, the delegation stressed support to Syria in face of the Takfiri thought, pointing out that Syria is facing U.S.-Zionist-backed terrorism.