Syria
Syrian President Assad pledges to push for fresh Syria talks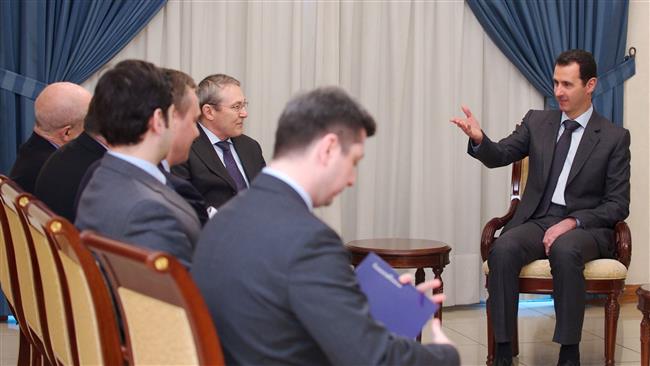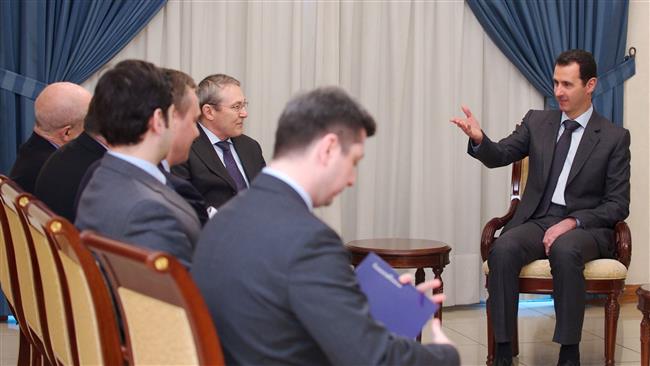 Syrian President Bashar al-Assad has vowed to press for the second round of peace talks between representatives from the government, domestic opposition, as well as foreign-based opposition in Russia.
During a meeting with Russia's Special Envoy Azmatullah Kolmohammadov and his entourage in Damascus on Sunday, Assad commended Moscow's efforts to settle the Syrian crisis, and stressed the need for coordination and consultation between the two capitals to facilitate the inter-Syrian dialogue.
The most important step towards achieving that end is to agree on an agenda that specifies the working method, the principles on which dialogue should be based, and the mechanisms that guarantee reaching the objectives of the dialogue, Assad said.
Assad further noted that the Syrian government and nation trust Russia, and believe in its relentless efforts to find a solution in the crisis-hit Arab country.
He, however, criticized some regional and Western countries for creating hurdles in the path of reaching such a solution through all-out support for terrorist groups operating inside Syria.
Kolmohammadov, for his part, hailed the Damascus government's eagerness to put an end to the ongoing crisis.
The Russian diplomat underscored that the success of any political process depends on international pressure on countries supporting terrorism in Syria.
Russia hosted the first round of talks between delegations from the government and the opposition on January 26 and 29, which ended without any concrete results.
The second round of inter-Syrian consultations is due to be held in Moscow between April 6 and 9.
Some 3.33 million Syrians have left their country since the beginning of the crisis in March 2011. A total of 6.8 million people have also become internally displaced, according to a recent UN-ordered report entitled "Syria: Alienation and Violence, Impact of the Syria Crisis."
So far over 210,000 people have reportedly died in Syria.