Middle East
Syria
Syrian president remains skeptical about Daesh leader's death
Syrian President Bashar al-Assad has once again cast doubt on his US counterpart Donald Trump's claim that Daesh ringleader Abu Bakr al-Baghdadi was killed in an operation by the US military last month, calling the much-publicized operation a "fantastic play" staged by the Americans.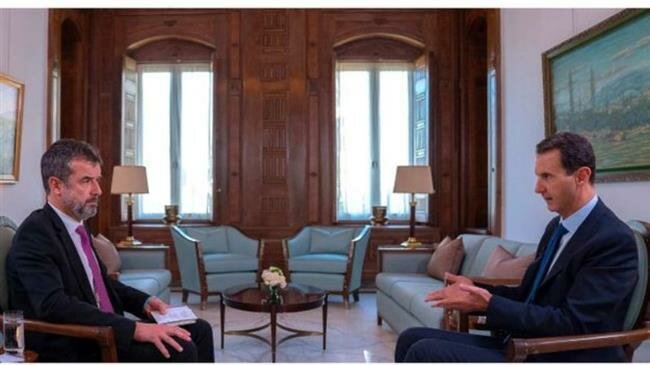 Assad made the remarks in an interview with the French magazine Paris Match published on Wednesday.
Trump announced Baghdadi's death in a military raid by US forces in Syria's Idlib province late in October. During his announcement Trump, thanked the Syrian government, among others, for helping with the operation.
When asked whether Damascus really gave the US information on al-Baghdadi's whereabouts, Assad said he "always laughs when this question is raised, because the more important question which should be asked is: was al-Baghdadi really killed or not? And did this "fantastic play" staged by the Americans take place in reality?"
Asked again why Trump thanked him, Assad said, "It's one of Trump's cute jokes. It's a joke."
Assad: US operation a trick, Baghdadi may be hidingSyrian President Bashar al-Assad has cast doubt on the death of Daesh leader Abu Bakr al-Baghdadi in a US operation, saying he may be hiding.
The interview comes a few weeks after Assad told the Syria TV news network that the US operation to kill al-Baghdadi was little more than a trick, because US politics "is no different from Hollywood; it relies on mere imagination, not even science fiction."
Elsewhere in the Wednesday interview, Assad lashed out at certain countries, including Turkey, the US, Britain and France for providing support to terrorists in Syria.
He said that the presence of French troops on the Syrian territory without an invitation from the Damascus government is considered an "occupation," and a form of terrorism, calling on Paris to return to the international law and to stop everything that could increase the bloodshed and and suffering in Syria.
"France, Britain, and America are violating international law under the pretext of supporting the Kurds, who are a part of the Syrian population, not an independent group," Assad added.
Assad also said that foreign members of the Daesh Takfiri terrorist group held in jails currently run by the US-allied Kurds in northern Syria will stand trial in local courts specialized in terrorism cases.
"Every terrorist in the areas controlled by the Syrian state will be subject to Syrian law, and Syrian law is clear concerning terrorism. We have courts specialized in terrorism and they will be prosecuted," he said.
The Syrian president further criticized Turkish President Recep Tayyip Erdogan for "trying to blackmail Europe" in the issue of extraditing terrorists to their home countries.
"Erdogan is trying to blackmail Europe. A self-respecting man doesn't talk like this. There are institutions and there are laws. Extraditing terrorists or any convicted person to another state is subject to bilateral agreements between countries; but to release people from prison knowing that they are terrorists and sending them to other countries to kill civilians – this is an immoral act," said Assad.
Earlier this month, Erdogan warned Western nations that he would continue to release people who were thought to be members of the Daesh terrorist group and send them back to their home countries if governments continued to pressure Turkey with sanctions over its offensive in Syria.