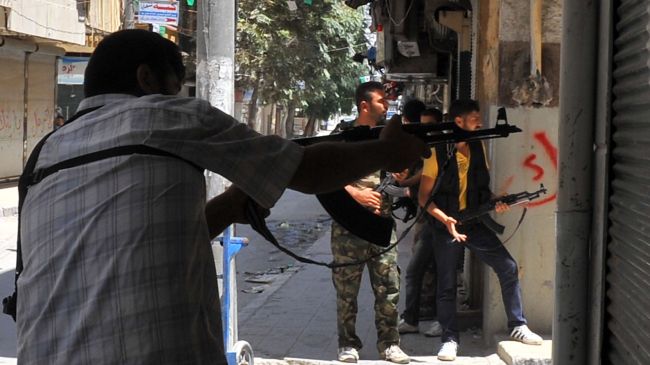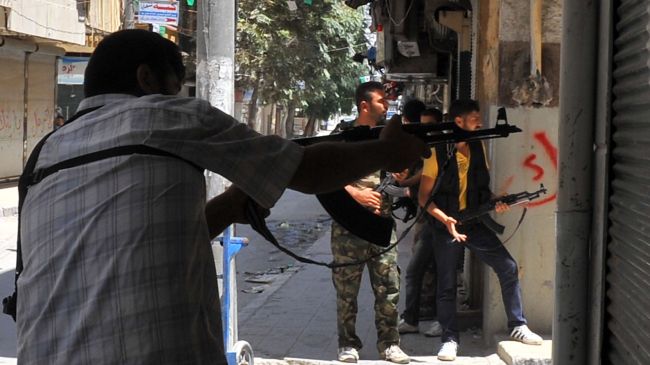 Rebels fighting against the Syrian government forces in the northwestern city of Aleppo have burned the bodies of their comrades to hide their nationalities, Press TV reports.
The report comes as clashes between army forces and armed gangs rage on in several regions in Syria.
Signs of torture can be seen on bodies found in areas held by the armed rebels, Syrian sources say.
The Syrian army on Saturday launched a military operation to clear Aleppo, the country's biggest city, from the foreign-backed rebels.
Press TV's correspondent in Syria said the army is inflicting heavy losses on the rebels in Aleppo.
The Red Crescent has suspended some of its operations in Aleppo because of heavy fighting.
Syrian government said its troops have freed two Italian nationals who had been kidnapped by armed groups in a suburb of Damascus.
There have also been reports of clashes in the northern province of Idlib while calm has returned to the capital Damascus after government forces flushed out the rebels there.
Government forces also defused several bombs planted near a mosque in the Hajar al-Aswad district of the capital.
Syria has been the scene of unrest since March 2011. Because the presence of armed groups who are supported, financed and armed by Washington, Tel Aviv, Ankara, London, Paris, Berlin and certain Arab regimes.
The US has not objected to its allies aiding rebel groups, and is rather facilitating the arms flow on the Turkey-Syria border, according to a Washington Post report in May.
The CIA's ability to operate inside Syria was hampered severely by the decision to close the US embassy in Damascus earlier this year, officials said.
The US administration is exploring ways to expand non-lethal support to Syrian opposition groups, officials told the Washington Post.