Syria
Syrian Security Sources: Damascus under Control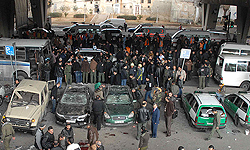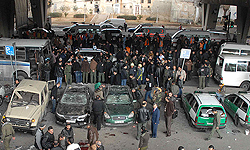 Syrian security sources dismissed the reports released by the western media outlets about increasing clashes and bomb blasts in Damascus after a suicide bomber killed several officials of the country during a cabinet meeting, stressing that "the conditions are under control".
"Following the suicide bombing earlier today, the security conditions have been brought under control and the rumors about sporadic clashes in Damascus are not true," a security source told the Lebanese Al-Manar TV.
"There is a war of rumors and baseless reports at work now," he said, and continued, "These rumors should go unheeded."
Senior opposition figures confirmed the remarks by the security source. "It is going to be difficult to sustain supply lines and the rebels may have to make a tactical withdrawal at one point, like they did in other cities," veteran opposition activist Fawaz Tello said from Istanbul.
An army statement issued after the blast said Syria was "more determined than ever to confront all forms of terrorism and chop off any hand that harms national security".
A suicide bomber at a "national security" force building in the capital Damascus Wednesday killed the country's defense minister and wounded the interior minister.
The attack struck the National Security building in Damascus during a meeting of Cabinet ministers and senior security officials. State-run TV said some of the officials were seriously wounded and Defense Minister Daud Rajihah was killed.
Al-Manar TV said that the Syrian Interior Minister, Muhammad Ibrahim al-Sha'ar, is among those wounded in the blast.
The capital has seen four straight days of clashes pitting government troops against terrorist and rebel groups, who are trying to bring down the government by force.
Following the suicide bombing, the western media, including Reuters, alleged that five other explosions were heard later on Wednesday close to the base of the elite 4th armored division, led by Assad's brother Maher. The division has been instrumental in confronting terrorist moves in Deraa, Homs and Idlib.