Syria
Syrian Social Nationalist Party Announces Support for Bashar Al-Assad's Presidential Nomination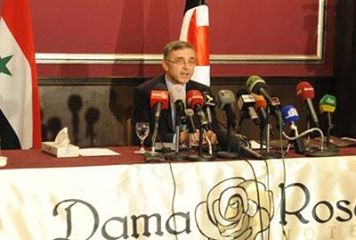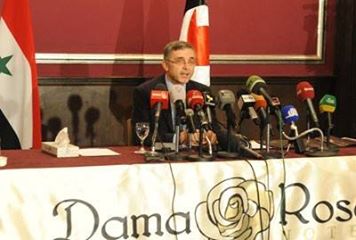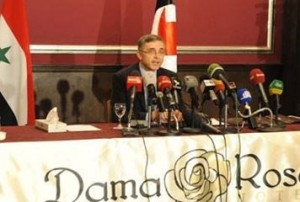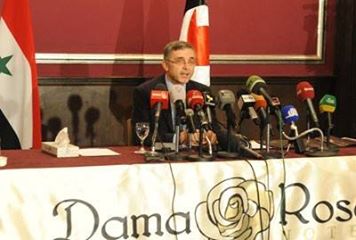 Damascus, (SANA) Leader of the Syrian Social Nationalist Party Ali Haidar declared that his party supports the nomination request of Dr. Bashar al-Assad to run for presidency as this is his right being a Syrian citizen.
"No external or any other forces are allowed to interfere in naming who have or don't have the right to do that as the act of nomination is a Syrian internal affair par excellence and the right of every citizen without exception," Haidar told the reporters in a press conference on Tuesday.
He reiterated that this right, which is also a duty of every Syrian citizen, should be practiced away from any political bickering stemming from having opponents or supporters of the government.
Haidar announced that his party was withdrawing from the Popular Front for Change and Liberation over discrepancy in positions towards the presidential election.
While voicing the Syrian Social Nationalist Party's outright rejection of confusing attitudes towards the election, being a constitutional event, with those stressing the necessity to reform this event, Haidar made it clear that his party is not on the same page with all the forces of the Front and not just with the Popular Will Party over this issue.
He said his Party intends "to make wide-ranging contacts with the national opposition forces to discuss the possibility of forging an extensive national coalition that works on a win-win basis and not on one team triumphing over the other".
Such a coalition, Haidar noted, should be formed "with the view of building Syria's future through a national progressive project that starts with mechanisms to get out of the crisis and ends up with the future of Syria project that is sought by every Syrian hand in hand with President Bashar al-Assad."
This project, he added, aims to lay the foundations for "a new Syrian charter" that paves the way for political action in line with the upcoming national events under the title "the right of citizenship, responsible freedom and democracy for all".
Facing the political matters and national and pan-Arab issues put forth on the political arena in a way that maintains the unity and security of the homeland also goes under the title of the project proposed by Haidar.
As he reiterated his party's absolute rejection of all forms of tutelage and foreign intervention and persistence with resisting the U.S.-Zionist scheme, Haidar affirmed that solving the crisis in Syria can only be through and among the Syrians.
The track adopted by the Syrian Social Nationalist Party, he added, comes out of its belief that this is the only path to face the foreign-backed terrorism and rejection to have the Syrian scene "shifted from a conflict over Syria to a conflict over legitimacy that could turn Syria into a battlefield for international conflict".