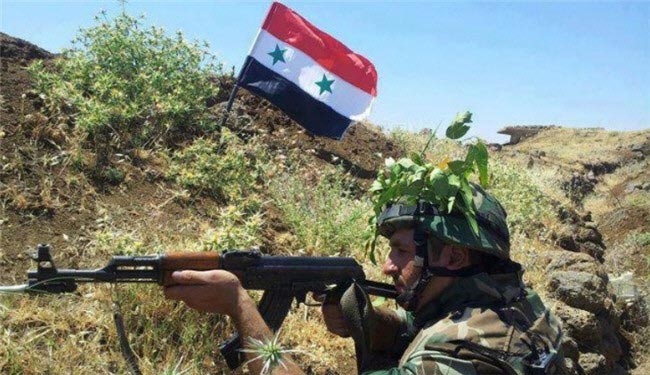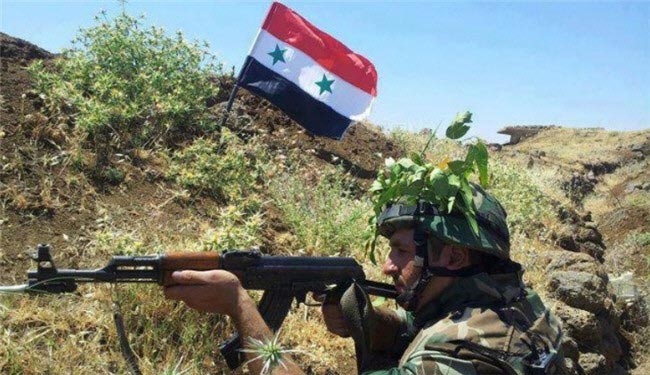 A Syrian army unit has eliminated an armed insurgency group in the northwest town of al-Zara near the Lebanese border, killing a number of foreign mercenaries.
Among those killed in the military operation were identified as Lebanese terrorists Diyaa al-Jarrah, Azzam Dahdouh and Abdel-Rahman al-Qaisi and native Saudi terrorist Rahjan Hamadan al-Elwani, Syria's state news agency SANA reported on Saturday, citing army sources.
The report further quoted the source as saying that the Syrian troops also carried out an operation against an insurgent hideout in al-Mshajjar al-Janoubi in the northwest town of Talbiseh, killing and injuring a number of the foreign-backed militants.
Another military unit of Syrian forces, the report adds, thwarted attempts by intruding terrorists to detonate an explosive device, weighing 70 kg and planted near al-Ofiyeh village in al-Hula area.
The report further cites a military source as reporting that Syrian army troops also eliminated a group of insurgents affiliated to the so-called Lewa al-Mua'tasem Battalion in the town of Atman near the Daraa countryside in the southwestern part of the country.
The source also identified Mohammad Saleh al-Ewayed, the leader of the armed group and sniper Mizyad Bassam al-Masri as among the foreign-sponsored insurgents killed during the operation.
Syria has been gripped by a destructive, foreign-backed insurgency since March 2011. According to reports, the Western powers and their regional allies — especially Qatar, Saudi Arabia, and Turkey — are supporting the insurgents operating inside Syria.