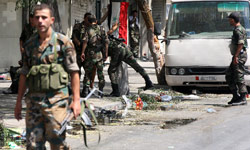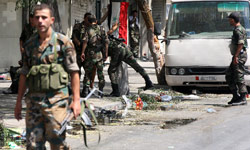 The Syrian Armed Forces killed a number of insurgents, including non-Syrian ones in a series of military operations carried out against their dens and gatherings in Harasta, Erbin, Douma, Joubar and Barzeh in Damascus and its Countryside.
The army destroyed a 23mm caliber anti-aircraft gun in Erbin and killed several rebels, including Ammar al-Qarsa and Salah Ghanoum, an official military source told the Syrian Arab News Agency.
An army unit killed Khaled Taha, the leader of a terrorist group, and members of his group, including Mouhanad Habash in a special operation in al-Obb farms in Douma.
The army units also killed scores of rebels in al-Bayder neighborhood in Harasta city, including the Saudi Othman al-Assyri, Sami al-Haswa and Muwafaq Eyoun in Bastara farms between Douma and Harasta.
Meanwhile, other army units continued operations against anti-government fighters' dens and gatherings in Barzeh neighborhood in Damascus and the farms surrounding it, confiscating weapons and ammunition and killing several fighters, including Naser al-Haboul and Masoud al-Drei.
Some other forces of the army targeted several members of a terrorist group in the town of al-Rihan in Douma area, the source said, adding that Mohammad al-Farran was among the killed members of the group.
Several members of al-Nusra Front were killed or wounded in an operation by the Armed Forces near a detergents factory in Adra area. Raef Ta'ma and Bassem al-Hussein were identified among the dead fighters.
Other units of the army continued their operations in the farms around the towns of al-Qasimiye and al-Zemaniye, inflicting heavy losses upon anti-government fighters.