Syria
Syrian troops kill scores of foreign-backed terrorists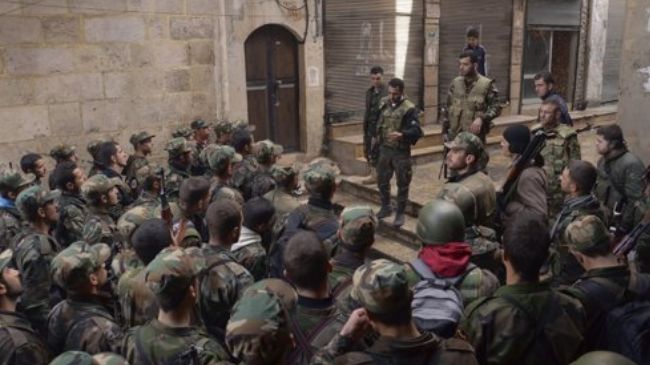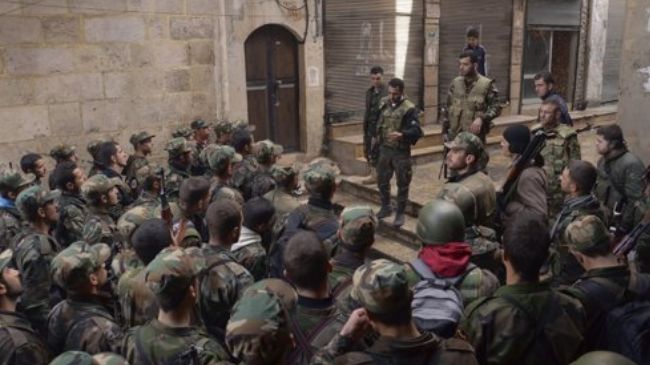 The Syrian army has killed scores of foreign-backed terrorists and seized their weapons during an ongoing operation across the country.
Syrian government forces launched attacks against the terrorists in the provinces of Damascus, Deir Ezzor, Homs, Aleppo, Idlib, and Daraa on Tuesday and killed a large number of them, the official SANA news agency reported.
In addition, the Syrian armed forces captured a large number of machine guns, sniper rifles, rocket launchers, mortar shells, anti-tank missiles, night vision goggles, and explosive devices.
In Aleppo province, "the army units killed dozens of terrorists in the areas of Erbeed, Kweires, al-Jadida, al-Amryeh, Mayir, al-Baik Farms and near Aleppo Central Prison and the Infantry School," a military source told SANA.
In Aleppo city, the army killed and injured several terrorists, who were trying to enter the neighborhood of al-Sayyed Ali. A number of insurgents were also shot dead in the neighborhoods of Salah Eddin and Bustan al-Qasr.
In the provinces of Homs, Daraa, Deir Ezzor and Idlib, the army units killed dozens of militants and captured their weapons.
Meanwhile, the government troops seized a warehouse full of weapons and ammunition used by militants near the capital Damascus.
The Syrian army has recently conducted successful clean-up operations across the country, inflicting heavy losses on the militants.
Recent investigations by various media outlets have found that the militants are taking amphetamine stimulants to stay on their feet in exhausting battles against Syrian government forces.
Al-Qaeda linked groups are also said to be using stimulant drugs extensively as they launch many attacks at night and are engaged in gruesome battles.
In an interview with Argentina's Clarin newspaper in May 2013, Syrian President Bashar al-Assad said militants from 29 different countries were fighting against the government in different parts of the country.
Assad stated that foreign intervention is the most important factor aggravating the situation in Syria.
A British defense study showed that about 100,000 militants, fragmented into 1,000 groups, are fighting in Syria against the government and people.
The extracts of the study by defense consultancy IHS Jane's were published on September 16, 2013.
Syria has been gripped by deadly unrest since March 2011. According to reports, the Western powers and their regional allies — especially Qatar, Saudi Arabia, and Turkey — are supporting the militants operating inside Syria.
According to the United Nations, more than 100,000 people have been killed and millions displaced due to the violence.