Syria
Syrian troops kill scores of US, Israel and Puppets-backed terrorists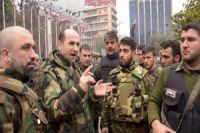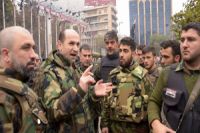 The Syrian army has clashed with foreign-backed insurgents fighting against the government in several parts of the country, killing a large number of them.
According to Syria's official news agency SANA, Syrian soldiers clashed with terrorists in Aleppo, Homs, suburbs of Damascus and Idlib on Sunday.
Syrian troops also destroyed several isnurgents' hideouts during their operations and confiscated large amounts of weapons.
Meanwhile, at least two civilians were killed and many others injured in terrorist mortar attacks in Damascus neighborhoods of al-Qaboun and Barzeh.
Casualties were also reported in Syria's eastern Hasaka region after mortars fired by militants destroyed seven houses in Um al-Kheir village.
Meanwhile, Syrian students living in Poland and a group of Polish citizens staged a sit-in outside the UN headquarters in the capital Warsaw to protest against the acts of terrorism committed by the insurgents in Syria.
They also called on UN Chief Ban Ki-moon to pressure states funding and arming militants operating in Syria to stop their anti-Damascus measures.