Syria
Syrian troops kill tens of terrorists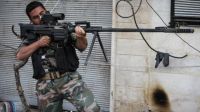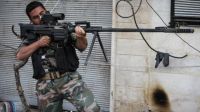 Syrian Army soldiers have killed dozens of foreign-sponsored insurgents during mop-up operations on the outskirts of the capital Damascus.
According to IRIB, on Sunday, a number of al-Qaeda-linked gunmen were killed during intense clashes with Syrian troops near the al-Forn roundabout in the town of Daraya, located eight kilometers (five miles) southwest of Damascus.
Syrian troops also uncovered a large amount of weapons, including Israeli-made bombs, machine guns and rounds of bullets, in Daraya's Cornice area.
The munitions had been hidden in holes dug by terrorists in the area's farms and plantations.
Moreover, Syrian soldiers killed a number of insurgents near the eastern entrance of Daraya.
In addition, Syrian troops raided a terrorist hideout, and shot dead scores of insurgents. They also seized various kinds of weapons, including sniper rifles, machine guns and a rocket launcher.
A unit of government forces killed a number of insurgents in al-Hejjeira town. Syrian Army soldiers also clashed with gunmen near al-Awzae' Mosque in Hejjeira, killing dozens more.