Syria
Syrian troops purge two more E Aleppo areas of terrorists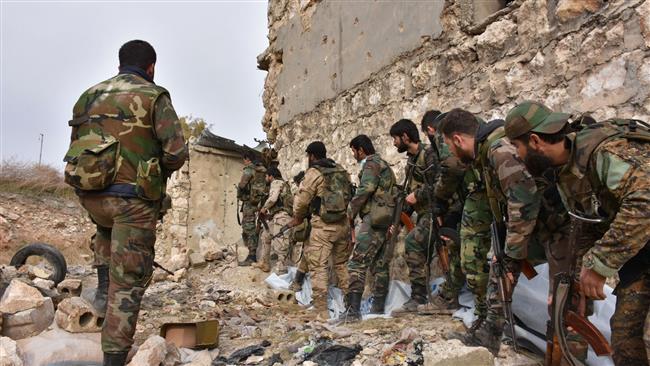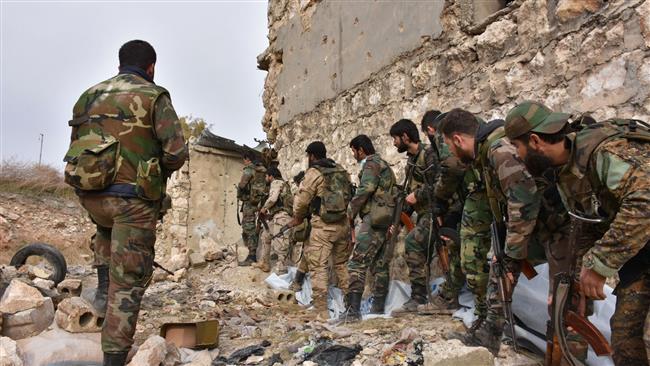 Syrian army soldiers and allied fighters have managed to recapture two militant-held eastern Aleppo districts in their latest push against foreign-backed terrorists on the battlefield in the contested city.
Lebanon's al-Manar television channel reported on Tuesday the liberation of Qadi Askar and Tirbet Lala neighborhoods as well as the southern part of Aleppo's residential area of Sha'ar.
This is while some reports said the Syrian army has taken full control of Sha'ar, but they have not been officially confirmed yet.
In addition, the so-called Syrian Observatory for Human Rights (SOHR) said after Sha'ar's liberation, the terrorists' campaign would be reduced to a "war of attrition" with the Syrian military.
Sha'ar "is the most important neighborhood in the heart of east Aleppo, and is on the brink of falling," the head of the SOHR, Rami Abdel Rahman, said, stressing that government forces already controlled about a third of the district.
The Syrian army is estimated to be in control of 70 percent of east Aleppo following the recapture of Sha'ar.
Backed by Russia's air cover, Syrian army forces and their allies have dealt heavy blows to the militants over the past few weeks.
Syria dismisses Aleppo truce, urges terrorists' withdrawal
Additionally on Tuesday, Syria announced that it would not agree to a truce in Aleppo unless it received adequate guarantees for the full withdrawal of militants from the flashpoint city.
In a statement carried by Syria's official news agency, SANA, the Syrian Foreign and Expatriates Ministry said that Damascus would "exert every effort to liberate" the citizens held hostage by terrorists in eastern Aleppo, adding, "It therefore rejects any attempt by any side to reach a cease-fire in east Aleppo that would not include the exit of all terrorists."
The statement was released one day after Russia and China vetoed a United Nations Security Council resolution calling for a seven-day ceasefire in Aleppo, with Moscow emphasizing that the pause would only permit the militants to regroup.
Elsewhere in its statement, the Syrian Foreign Ministry "appreciated" the double veto of the motion and noted that it would have only granted the terrorists "the opportunity to regroup and commit their crimes again."
US buying time for militants to re-arm
Separately on Tuesday, Russian Foreign Minister Sergei Lavrov referred to the planned negotiations between Moscow and Washington on the cessation of hostilities in militant-held eastern Aleppo, saying that the US "retracted the initial document and now they have a new document, which … brings back all of our previous concerns."
Lavrov made the remarks in a joint press conference with Secretary General of the Council of Europe Thorbjorn Jagland following a meeting in Moscow.
He further denounced the US effort to secure a pause in Aleppo fighting as "an attempt to buy time for militants to give them breathing space and be able to replenish their ammunition."
The top Russian diplomat also warned that Aleppo terrorists would be wiped out unless they quit the city, saying, "There is no other way."
On Monday, a militant attack on a Russian mobile hospital in Aleppo left two medical staff dead and several others injured.
Touching on the assault, Lavrov argued that "it was an orchestrated action planned by those who attempt to preserve their positions in Aleppo under the patronage of some Western countries."
Aleppo situation 'disgrace' for international community
In another development on Tuesday, German Chancellor Angela Merkel said the international community had failed to alleviate the suffering of Aleppo residents.
"It is a disgrace that we have been unable to establish humanitarian corridors, but we must continue to fight for it," she said.