Syria
Syrian UN envoy calls for removing of all US economic sanctions amid COVID-19 pandemic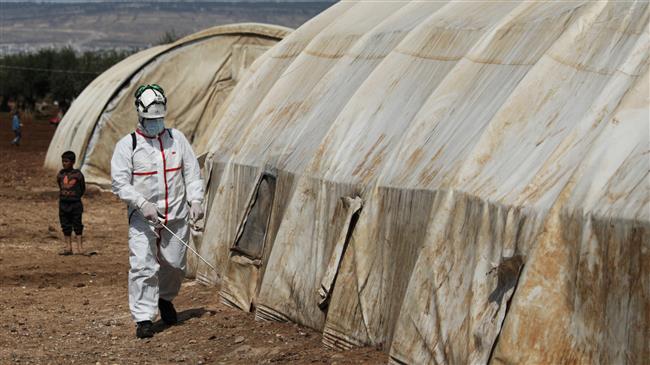 Syria's Ambassador to the UN Bashar al-Ja'afari has reiterated a call by his country for immediate and unconditional lifting of all US economic sanctions, a few days after the coronavirus killed the first patient in the Arab country.
In a letter to UN chief Antonio Guterres and president of the UN Security Council Zhang Jun, Ja'afari lambasted remarks by US State Department official James Jeffrey who accused Damascus Monday of using "cynical ploys" and urged Syrians to "count" on Washington in "delivering humanitarian assistance to people in need".
Ja'afari said such "irresponsible and misleading" comments by US officials "are just an attempt to cover the US crimes and violations against the sovereignty, independence and safety of the Syrian territories and against the security, peace and prosperity of the Syrian people".
Syria UN envoy calls for lifting of sanctions amid COVID-19 outbreak
Syria's UN ambassador demands the immediate and complete lifting of all sanctions against his country to enable Damascus to respond to the coronavirus pandemic.
The senior Syrian diplomat also said that since 1979, Washington has been imposing arrays of unilateral and crippling economic sanctions against Syria, whose impact have been particularly aggravating since 2011 when a foreign-backed militancy began in the country.
He said the previous as well as the current US administrations have issued at least eight executive orders on further tightening the economic blockade on the Syrian nation.
Ja'afari said the unprecedented economic embargoes on Syria's banking, energy, investment, import, export, communications and the air, sea and land transport sectors are all imposed with the aim of depriving the Syrians of their basic rights.
The US economic sanctions have devastating impacts on Syria and moved its ranking in the Human Development Index to the list of the least developed countries in the Human Development Report 2016, Ja'afari further said.
Such coercive measure, he added, have disrupted the process of delivering humanitarian aid to Syrians and undermined their ability to meet their basic needs.