Syria
Syrians hold demo in Damascus to slam terrorists' crimes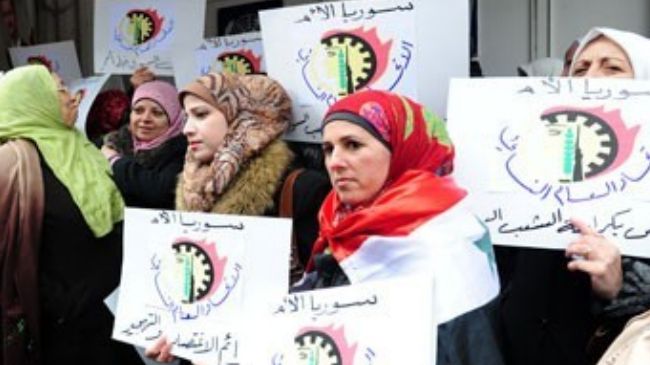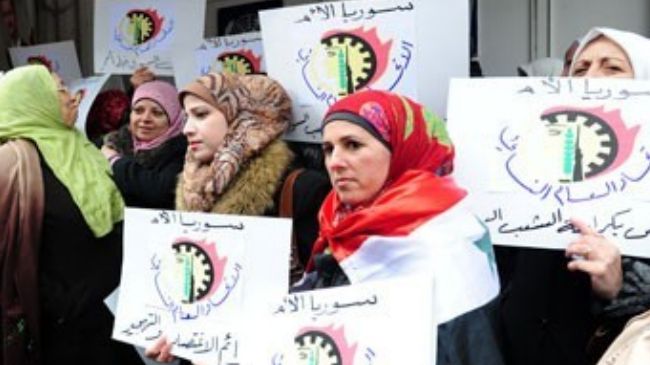 Scores of Syrians have held a demonstration in Damascus to condemn Takfiri terrorists' crimes against people living in the city of Adra.
On Thursday, the Syrians gathered in front of the United Nations headquarters in the capital to express their anger over the terrorists' atrocities against civilians in Adra in Damascus countryside, the official SANA news agency reported.
The protesters also slammed the countries supporting the foreign-backed terrorists fighting against the Syrian government.
They also called on the Persian Gulf Arab countries as well as "Turkey" to stop supporting the terrorists operating in the Middle Eastern country.
Last month, a number of terrorists from Syria's Takfiri group Jabhat al-Nusra (al-Nusra Front) attacked the city, committing a massacre against the civilians living in Adra.
Syria has been gripped by deadly unrest since March 2011. According to reports, the Western powers and their regional allies — especially Qatar, Saudi Arabia, and Turkey — are supporting the terrorists operating inside Syria.
According to the United Nations, more than 100,000 people have been killed and millions of others displaced due to the violence.
A British defense study showed that about 100,000 terrorists, fragmented into 1,000 groups, are fighting in Syria against the government and people.
The extracts of the study by defense consultancy IHS Jane's were published on September 16, 2013.
IHS Jane's estimates that some 10,000 terrorists are fighting for groups affiliated with al-Qaeda and the rest fight for different militant groups.
The analysis also said that a large number of extremists from foreign countries are also active in Syria.