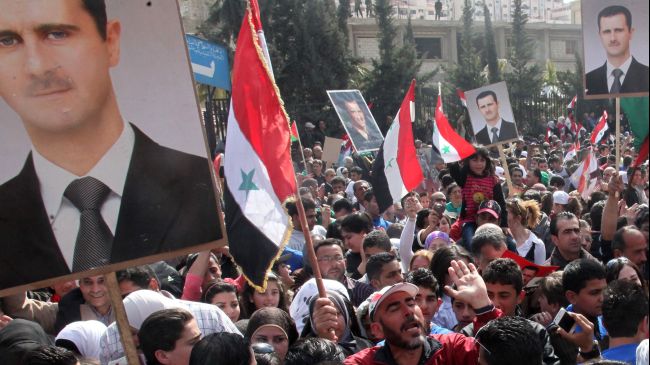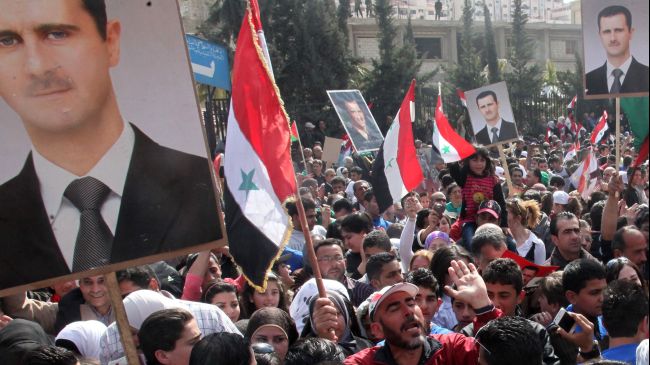 Thousands of Syrians have held fresh rallies to endorse the government of Syrian President Bashar al-Assad.
Rallies were held in Dweilaa, inside the capital, and in Dhahiyat in the Damascus countryside.
The Syrians condemned foreign interference and terrorism in the Arab country.
Pro-government rallies have frequently taken place during the past three years.
On February 19, a demonstration was held in the town of Sayyidah Zaynab in Damascus countryside. The participants carried posters of Assad and chanted slogans against terrorism and foreign interference in the country.
Eleven days before this incident, on February 8, mass rallies were held in support of Syria's President in Damascus and its countryside. Pro-government demonstrations were also held in the western city of Homs and its countryside.
Furthermore, Syrians also took to the streets in Damascus and the town of Nabek in support of the government on February 2.
Syria has been gripped by deadly violence since 2011. According to reports, the Western powers and their regional allies – especially Qatar, Saudi Arabia and Turkey — are supporting the militants operating inside Syria.