Syria
Syrians march in Latakia to support their national army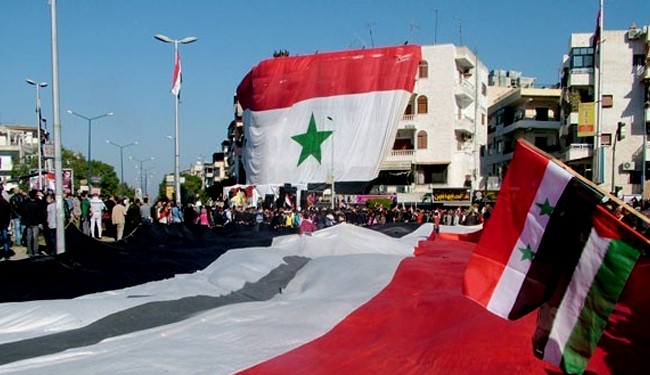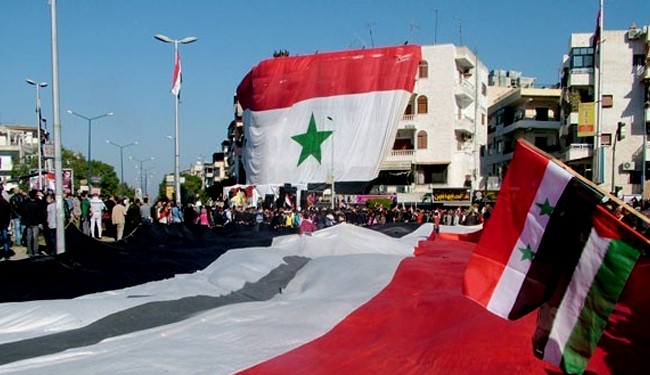 Thousands of people in Syria's port city of Latakia marched to the streets to voice support for their national army which has been attempting hard to protects the country from a deadly multinational war for nearly three years.
The participants carried the national flag and banners stressing their support for the Syrian people and the Syrian Arab Army's sacrifices in confronting "the conspiracy and expressing their adherence to the nationalistic and pan-Arab principles," the official Syrian SANA news agency wrote in a report.
"Waving a 200-meter Syrian flag and a huge poster for President Bashar al-Assad, the participants in the rally voiced allegiance to President al-Assad's leadership who constitutes, together with the Syrian army, the safety valve for Syria amid the uphill challenges facing it, expressing confidence that President al-Assad will steer Syria to the shores of safety," the report said.
They also expressed hope for the Syrian delegation in the Geneva talks, while calling for mobilizing capabilities to contain what they called a foreign conspiracy that has torn their country apart.
The participants held government of Turkish President Recep Tayyip Erdogan and the Persian Gulf regimes responsible for the bloodshed in Syria, voicing confidence in a bright future awaiting the Syrian people.
Syria sank into war in March 2011 when pro-reform protests turned into a massive insurgency following the intervention of Western and regional states.
The unrest, which took in terrorist groups from across Europe, the Middle East and North Africa, has transpired as one of the bloodiest conflicts in recent history.